GameStop Drops Most Since 2002 After Failing to Sell Itself
(Bloomberg) -- GameStop Corp. plummeted as much as 26 percent, the most in 16 years, after ending an effort to sell itself. It leaves the world's largest independent video-game retailer with fewer options to recover in an industry that has moved to digital streaming.
The decision caps months of turmoil during which the company's longtime CEO died and his replacement left after just three months on the job. GameStop started a strategic review in June. But with physical video games out of vogue in the digital age, there weren't a lot of strategic merger partners left for the company.
GameStop said Tuesday it couldn't secure financing at terms a buyer would find acceptable, and it's continuing to search for a new chief executive officer.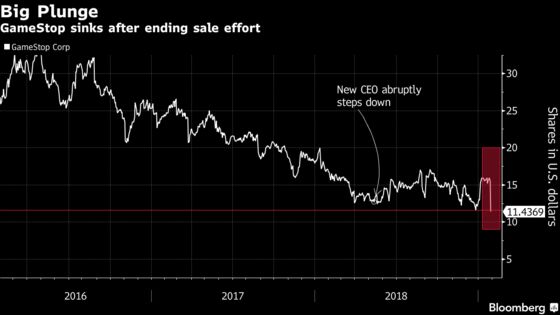 The shares were down 26 percent to $11.41 as of 10:27 a.m. in New York Tuesday. At current levels, the stock is worth about a third of its peak value, reached in December 2007. Its market capitalization stands at about $1.2 billion, including Tuesday's slump.
What Our Analysts Say ...

GameStop has a lot of work to do following its decision to not pursue a sale, with the physical-game business in decline. The company needs to more aggressively reduce its store count and probably invest significantly in new systems to better offer omnichannel shopping and new services, such as a previously tested but canceled subscription offering.

--Matthew Kanterman, Bloomberg Intelligence analyst

Click here to view research
As part of its strategic review, the company agreed in November to sell its Spring Mobile business for $700 million. But GameStop is trying to weather a storm without a permanent chief executive officer. Former CEO Michael Mauler, who had replaced longtime chief Paul Raines after he resigned due to illness in February, stepped down in May. The company said Tuesday that its search for a permanent CEO continues.
The industrywide declines in brick-and-mortar sales of video games left GameStop with few strategic merger partners. The most obvious bidders would have been private equity firms -- Apollo and Sycamore Partners had been cited by the Wall Street Journal as potential acquirers.
The shares had already tumbled Monday on news that Apple Inc. plans to launch a subscription video-game service, indicating that competition is only intensifying for the beleaguered retailer.