FX Traders Pivot to Tactical Bets as Old-School Strategies Flop
(Bloomberg) -- Currency traders are switching up their playbooks as some of the most time-tested strategies are fizzling in the $5.1-trillion-a-day market.
Momentum, carry and value bets have delivered lackluster returns in foreign exchange this year, prompting some money managers to shelve them in favor of event-driven and niche positions. OppenheimerFunds Inc. has cut the holding time for some wagers to weeks instead of months, while money manager Standish is looking at dollar options that would profit from risks related to trade disagreements.
The FX landscape has proven challenging in 2018 amid questions about global growth prospects, trade tensions and political turmoil. Investors have been flummoxed by the dollar's path in particular: The greenback has rallied for three straight months, defying the bearish consensus established after last year's 8.5 percent drop.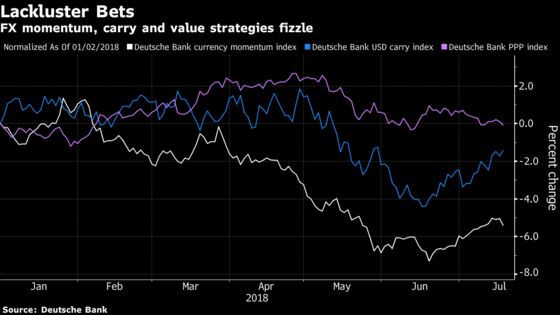 "This has been more a traders' market than an FX-style-driven market," said Alessio de Longis, a money manager in the global multi-asset group at OppenheimerFunds. "This is not a year for style-driven investing, where a persistent exposure to something like carry, value or momentum is likely to generate attractive returns, unless a more tactical component is added."
For example, de Longis took profit on options on Mexico's peso after the nation's presidential election this month, and was briefly overweight the Swiss franc amid Italian political turmoil in May and June.
Currency momentum strategies have slumped about 5 percent this year after falling 2 percent in 2017, according to a Deutsche Bank AG index. A gauge of carry trades, in which investors borrow where rates are low and invest the proceeds where yields are higher, has dropped 1.3 percent, following a 1 percent loss last year. Valuation bets are flat after climbing 1 percent in 2017.
"Trading has shifted to become a bit more shorter-term and tactical, with tighter targets/stops," said Brendan Murphy, head of global and multi-sector bonds at Standish, part of BNY Mellon Investment Management North America. "There has been a bit more divergence with hedge fund/fast money-type names shifting and remaining more bullish on the dollar while real money and longer-term investors remain short."
His firm has considered buying dollar puts, which give the right to sell, partly on the view that the currency's rally is stalling. Options are more attractive than outright currency bets because of the risks around trade policy, he said.
"It seems no one FX style has consistently outperformed," said Ardra Belitz, a portfolio manager at Lazard Asset Management. Given the change in credit and monetary conditions after 10 years of stimulus in the world's biggest economies, "there are more discussions surrounding idiosyncratic opportunities," she said.
The ho-hum performance of the traditional strategies coincides with a 4 percent drop in returns for FX hedge funds this year, according to BarclayHedge data. Speculators turned bullish on the dollar in June after being bearish most of the previous year, U.S. Commodity Futures Trading Commission data show.
On top of divining the path of the Federal Reserve and other central banks, investors also face the task of determining the winners and losers from an escalating trade war.
"It's been difficult to trade on traditional FX strategies given high uncertainty stemming from the rise in populism and trade protectionism," said Sireen Harajli, a foreign-exchange strategist at Mizuho. "The current trade-war environment has been unprecedented," and "it's become difficult to predict the market reaction to some events."