FX 'Cartel' Traders Teamed Up After Trying to 'End' Each Other
(Bloomberg) -- A group of British currency traders decided it was better to talk than fight, a Manhattan federal jury was told.
The traders saw each other as fierce rivals before they became fast friends and decided to work together in a chatroom known as "The Cartel," one of them told the jury.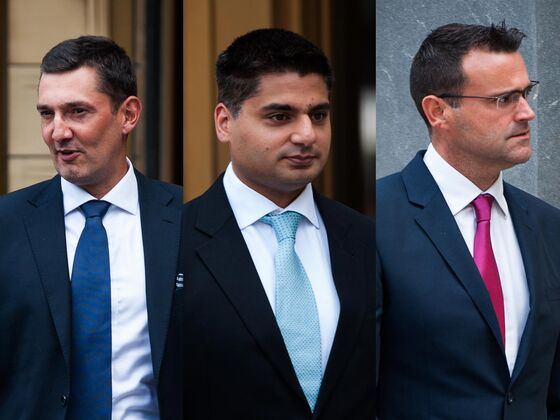 Matt Gardiner, the U.S. government's star witness at the currency-rigging trial of former JPMorgan Chase & Co. trader Richard Usher, ex-Citigroup Inc. trader Rohan Ramchandani and Christopher Ashton, previously head of spot FX trading at Barclays Plc, finished a week of testimony Thursday. He described their strategies such as double-teaming and "bulleting" -- or buying aggressively -- to rig the euro-dollar exchange rate. He took jurors through chat logs that showed how the they all eventually came to an agreement to join forces.
Prosecutors presented the transcripts as evidence of the cooperation. In the following excerpt, Usher wrote to a colleague about Ramchandani:
he used to kill me at ecb fix, that's why I called him up and said let's get together cos i rather have u onside
Ramchandani also wrote to an ex-colleague:
u know how rich and me started talking
we used to end each other on fixes
eventually we met
chat now
and never are on the other side!
hahaha
Gardiner, a former currency trader at Barclays and UBS Group AG, was asked by a defense lawyer whether the widespread market practice of seeking and sharing information could be considered coordination. Michael Kendall, a lawyer for Usher, suggested in cross-examination that all the traders acted independently to maximize profits for their banks.
The lawyers for the accused said in their opening arguments that the chat forums weren't illegal, and instead were an everyday fixture in the traders' jobs where they'd do deals, swap market color, joke around and build relationships. Gardiner is a "deeply flawed witness" because he made a deal with the government for a promise that he wouldn't be prosecuted, Heather Tewksbury, Ramchandani's lawyer, told jurors last week.
The other three face as long as 10 years in prison if they're convicted.
Gardiner testified that the group agreed on trading strategies and would congratulate each other when their bets paid off. If any of the bankers acted in a way that appeared to disadvantage others, "it was discussed front and center immediately" in sometimes angry exchanges, he said.
The government also called Jeremy Tilsner, a senior director at consultant Alvarez & Marsal, to testify about the firm's analysis of the bankers' transactions on key dates, including volumes, prices and counterparties. Prosecutors also called witnesses from CLS Group Holdings AG, Barclays, JPMorgan and Citigroup to discuss currency-settlement processes.
The case is U.S. v. Usher, 17-cr-00019, U.S. District Court, Southern District of New York (Manhattan).