Funds That Helped Drive Carbon Costs to a Record Are Now Selling
(Bloomberg) -- Investors have helped drive the cost of polluting to a record in Europe, the world's largest emissions market. Now they are taking some money off the table.
A BNP Paribas Asset Management fund with more than 3 billion euros ($3.6 billion) under management closed some of its bets on rising carbon prices after a gain of more than 100%, according to its co-manager Edward Lees. Investors slashed their bullish positions on pollution permits by 38% from an all-time high in April, exchange data showed.
European carbon is one of the hottest commodities trades this year, surging about 60% in a rally only rivaled by soybean oil and lean hogs. But with such high profits at stake, some investors are starting to sell, sending prices tumbling for three consecutive weeks. Futures are now 8.3% down from a record 56.90 euros a metric ton in May.
"We were early, we invested about a year ago when carbon was in the low 20s and that worked out great for the fund," said Lees, who runs BNP's Energy Transition fund together with Ulrik Fugmann. "We've actually taken some money off the table there even though the long term is still potentially quite interesting."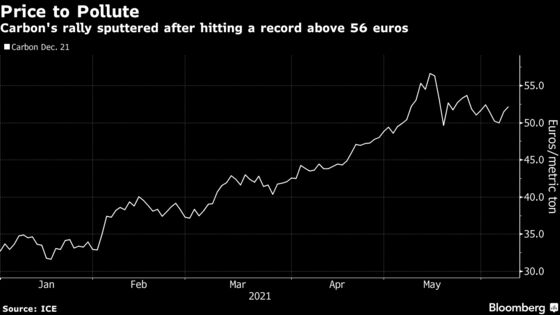 Utilities and energy-intensive users from steel to ceramics producers have been required to match their emissions with permits since the market started in 2005. For years, prices were too low to punish polluters and only the most devoted traders were active.
But speculators piled into the market last year after the global pandemic shut down businesses from Frankfurt to London, sending prices tumbling. That was an opportunity too good to miss in a market that traders say lacks "natural sellers."
The profit-taking by funds is also coinciding with lower demand for permits from energy-intensive firms since the end of April, when industrial companies had to give up their permits to match last year's emissions. That's causing a "technical correction," said Federico Di Credico, managing director at ACT Commodities.
Di Credico, who advises such players on their carbon strategies, expects the lull in demand to last through the summer. There could also be additional supply when industrial companies receive their free permits for this year, said Serafino Capoferri, a commodity strategist at Macquarie Group Ltd.
"The biggest question mark is how are industrials going to behave once they receive free allocation," he said.
Even if speculators have turned bearish for now, investors predict further gains because of the specific market design. The European Commission, which regulates the market, will gradually curb the supply of permits to force utilities and other polluters to get cleaner.
There's also little or no reason for industrial companies to sell their free permits when they know supplies will only get tighter, Capoferri said.
"We made over 100% on our carbon position and if it were to dip, we'd buy it again," BNP's Lees said. "But it's probably right in the short term just to take a little bit off. It's just been quite a rapid rise recently."
Prices also dropped as some companies sell their permits and buy U.K. ones after Brexit. British utilities are estimated to be sitting on 35 million tons of European certificates that need to be converted at some point, Capoferri said. That's nearly as much as the annual emissions of Switzerland.
Morgan Stanley sees European carbon prices ending the year at around 48 euros, lower than the current level. BloombergNEF expects them to close at between 48 euros to 53 euros.
"Looks like the bears are waking up," Clive Lambert, a technical analyst at FuturesTechs, wrote in a recent report.