Funding Circle Plunges as Citi's Rapid Downgrade Adds to Worries
(Bloomberg) -- Funding Circle Holdings Plc plunged to a new low on Thursday after Citigroup Inc. analysts cut their recommendation to sell and halved their price target, just 10 days after first rating the U.K. lending-platform operator.
"There's evidence of credit deterioration," Citi analyst Josh Levin said in a note, citing the performance of the Funding Circle SME Income Fund, a separately listed investment company that buys loans originated by Funding Circle.
The broker's bleak assessment comes two days after the lending fund linked to the company said increased personal insolvencies in the U.K. helped drive it to a loss last month, sending Funding Circle shares tumbling. The stock fell as much as 26 percent to 240.05 pence on Thursday before paring the decline to 22 percent. It's now about 40 percent below the price of September's initial public offering.
Dec. 18: Leveraged Bet on U.K. Plc Snags Online Lender Funding Circle
In an emailed response, Funding Circle's founder and Chief Executive Officer Samir Desai said guidance for the full year and medium term set out at the IPO remains unchanged.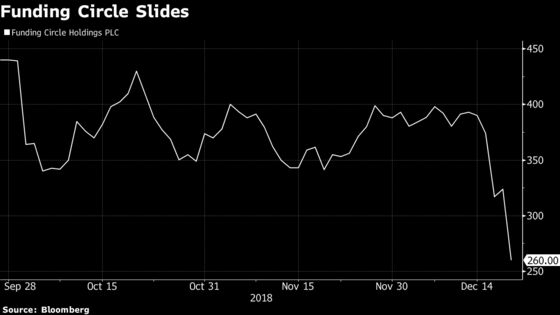 Funding Circle, a so-called platform lender that connects investors to borrowers without providing its own capital, has continued to raise funds from major institutional money managers and banks despite facing a slew of challenges in the three months since its London listing.
The company is expanding its operations in Europe and the U.S., but about 70 percent of its loan book remains in the U.K., Citi's Levin said, cutting his price target to 204 pence from 432 pence.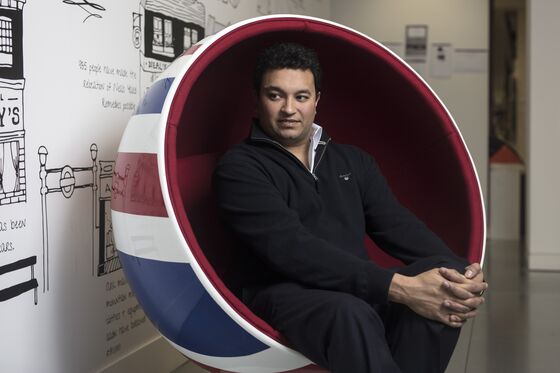 Desai, 35, said two deals announced since September worth a combined $2.3 billion are "a vote of confidence in the quality and risk-adjusted returns of loans on the Funding Circle platform." U.S. money managers Alcentra and Waterfall Asset Management have separately agreed to buy Funding Circle-originated loans in the U.S. and the U.K., respectively.
"The key unanswered question" about Funding Circle is how willing investors are to supply funds in a deteriorating credit environment, Levin said. "To be sure, there's no evidence as of yet that FCH is experiencing funding risk, but we expect investors to price in this higher likelihood."