Fukushima Water Should Be Released Into Sea or Evaporated, Panel Says
(Bloomberg) -- A Japanese panel will recommend to the government that swelling volumes of treated radioactive water from the wrecked Fukushima nuclear plant should be released into the ocean or evaporated.
A Ministry of Economy, Trade and Industry panel agreed to the options during a meeting Friday in Tokyo and will send the recommendations in a report to Prime Minister Shinzo Abe's government, which will make the final decision on how to proceed. The draft report made public at the meeting Friday didn't include a proposed timing for the release.
"The options we are proposing are realistic and feasible," Ichiro Yamamoto, the panel's chairman, told reporters after wrapping up their three-year discussion of the issue. "It's up to the government which option to take."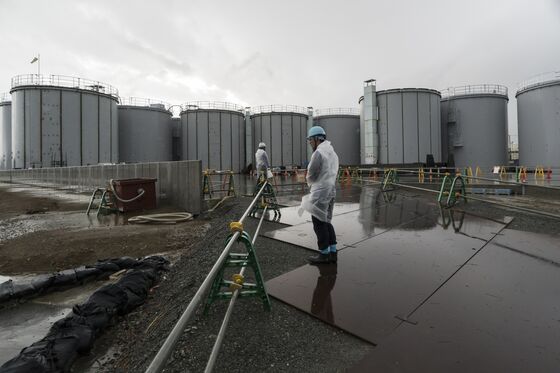 Storage tanks at the site, whoch hold water treated by a nuclide-removal facility called ALPS, are forecast to be full by mid-2022, and space for building more is scarce. While South Korea and local fishing groups in Fukushima prefecture strongly oppose an ocean release, discharges are common practice in the industry and would likely meet global guidelines.
Why Japan's Radioactive Water May End Up In the Ocean: QuickTake
It is easier to monitor the impact of released water on the environment than to check the influence of evaporation, Shuji Okuda, a METI director for decommissioning and contaminated water management, said Friday. While releasing the water into the ocean may have a major impact on fishing and tourism, evaporation could affect wider industries, he said.
Any water that is released into the environment will be re-purified and diluted to meet standards and the discharges would take place over decades, according to a December report from METI.
Tepco was holding enough of the treated water to fill 400 Olympic-sized swimming pools at the site, as of Oct. 31. On average, about 170 cubic meters of water becomes tainted daily, which includes water that is pumped into the plant to keep the remaining fuel inside cool.
"For the recovery of Fukushima people from the disaster, the nuclear plant must be scrapped," Yamamoto said. "Removing the water from the plant is part of its decommissioning."