FTX Acquires the First U.S.-Approved Crypto Derivatives Platform
FTX.US has agreed to acquire LedgerX for an undisclosed sum, a move that's set to expand the crypto exchange's product offerings to futures and options trading in the U.S. 
The majority of global crypto volume trades through derivatives, though most of that occurs on venues outside the U.S. But there's "a deep demand" from both retail traders and institutions for regulated crypto derivatives within the country, said Brett Harrison, president of FTX.US. 
"Our longer-term expansion strategy is for FTX.US to offer a wide array of asset classes in regulated markets, and this is our first major step in that direction," he said via emailed comments. U.S. investors are prohibited from accessing FTX and must conduct transactions though FTX.US, which is overseen by American regulators. 
LedgerX is a U.S.-regulated crypto derivatives exchange and clearinghouse that offers around-the-clock trading to both institutional and retail investors. It offers physical settlement of all contracts, as well as algorithmic trading for institutional investors, among other services, according to a release.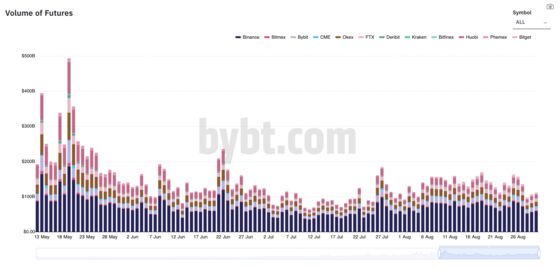 FTX.US plans to maintain continuity of LedgerX's existing businesses, though the firm will work to bring LedgerX's regulated futures and options products under the FTX.US umbrella, said Harrison. That could serve as a jump-off point to consider more product offerings down the line, he said. Bloomberg News in July reported that FTX.US could be looking to offer trading of more traditional assets like stocks.
In 2017, LedgerX became the first federally regulated digital currency options exchange and clearinghouse in the U.S. Since its launch four years ago, it's cleared over 10 million crypto options and swap contracts, according to the release.
"U.S. crypto derivatives is an incredibly underserved market, and it took time and resources for us to become a regulated entity under the existing frameworks," Zach Dexter, chief executive officer and co-founder of LedgerX, said in a release. "FTX has taken the view, which we share, that U.S. regulators are ready and willing to partner on innovative products, it's the responsibility of the industry as a whole to step up and work with agencies like the CFTC," he said, referring to the Commodity Futures Trading Commission.