Regulators Order Suspension of Japan Post Insurance Sales, Sources Say
(Bloomberg) -- Japan Post Holdings Co. named former government minister Hiroya Masuda as its new chief executive officer as Masatsugu Nagato and other senior group executives announced they are stepping down to take responsibility for improper sales practices.
The resignations came hours after Japan's financial regulator ordered a three-month suspension of insurance sales by two Japan Post units, saying it found examples of customers being sold unduly expensive policies, without proper explanation of what they were buying. The penalty applies to the group's mail and insurance subsidiaries, the Financial Services Agency added in a statement.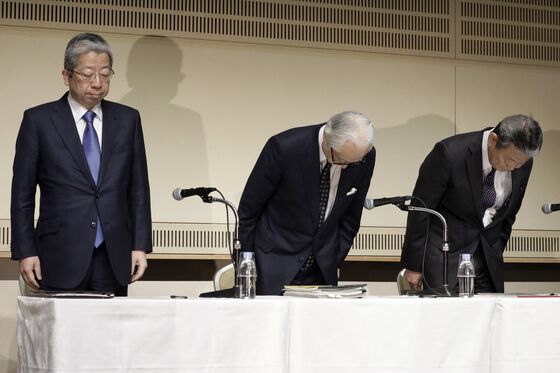 The turmoil at the company stems from a third-party report last week which painted a damning picture of Japan Post's work culture, in which employees were chastised in front of colleagues for poor performance. The scandal has shocked the Japanese public, especially in rural areas, where many people rely on the nation's post offices for financial services as well as mail delivery.
The other two departing executives are Kunio Yokoyama, president of the mail service operation Japan Post Co., and Mitsuhiko Uehira, president of Japan Post Insurance Co. All three appeared at an evening press conference on Friday to apologize for the scandal.
"I assumed the post in the hope that I'd be able to contribute to this country," Nagato told reporters. "It's heartbreaking that I ended up causing trouble instead."
Yokoyama will be replaced by Kazuhide Kinugawa, currently a senior executing of the holding company; Tetsuya Senda, a Japan Post Insurance executive, will take Uehira's position, the companies said.
The scandal has also forced the government to consider holding off its plan to sell $10 billion worth of shares in Japan Post Holdings, according to people familiar with the situation.
Masuda, a former internal affairs and communications minister, will face the daunting task of restoring trust in Japan Post and getting the government's privatization strategy back on track. The FSA said the insurance and postal units should focus on improving their compliance and sales regimes during the three month suspension period.
Japan Post Insurance is one of the country's largest insurance firms, with total assets of 73 trillion yen ($667 billion) as of end-September. The Japan Post group has about 400,000 employees and runs 24,000 post offices across the country.
The postal business has been suffering from a steady decline in mail volumes. The group's two financial units, Japan Post Bank Co. and Japan Post Insurance, earn over 90% of group profit but have been hurt by diminishing returns on their investment portfolios at a time of ultra-low interest rates.
An earlier attempt to diversify ended badly. In the year ended March 2017 the company booked a 400 billion yen ($3.6 billion) impairment charge on Toll Holdings Ltd., an Australian logistics firm it acquired in 2015.
Shares of all three Japan Post companies have remained well below the prices set in the 2015 initial public offerings. The holding company shares closed Friday at 1,037 yen, 26% below the IPO price of 1,400 yen.
Nagato, a former Mizuho Bank senior executive, became CEO of Japan Post Holdings in April 2016 after his predecessor was hospitalized. Masuda started his career as a central government bureaucrat and served as governor of Iwate Prefecture. As well as holding the ministerial position, he was chairman of a government panel overseeing Japan Post's privatization process during 2013-2016.