Frustrated Doctors Cast Doubt on 'Exponential' Cancer Drug Launches
(Bloomberg) -- Promising new cancer therapies first approved last year, in a class known as CAR-T, are generating "frustration" among the doctors prescribing them, according to Piper Jaffray analyst Tyler Van Buren.
Piper surveyed about 33 physicians, from oncologists in hematology to lymphoma transplant specialists, who noted patients experience worse responses than observed in clinical studies, fairly high relapse rates, and serious side effects such as neurotoxicity. While doctors are optimistic that CAR-T treatments will prove to be more efficacious in earlier lines of therapy, many question if they're worth the $300,000 to $400,000 price tags, Van Buren wrote in a note.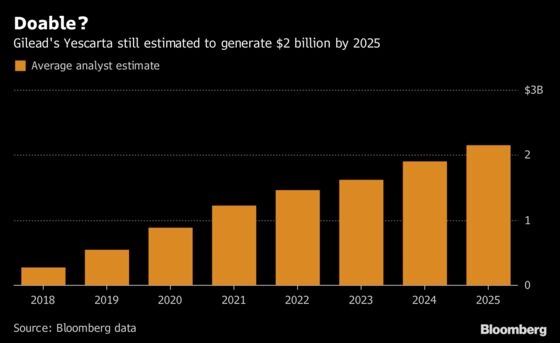 The findings don't bode well for the new class of therapies, which includes Gilead Sciences' Yescarta and Novartis's Kymriah, and suggest that the launches of these first-generation products "will be more linear than exponential," he said. While Wall Street analysts have already lowered their projections for Yescarta, they still expect it to generate over $1 billion by 2021 and exceed $2 billion in 2025. Gilead reported $75 million in sales for the drug in the third quarter, missing estimates.
Concerns about the therapies' commercial outlook contributed to Piper Jaffray's downgrade of Gilead a week ago, while other analysts have suggested the drugmaker could be forced to take a writedown on the $12 billion Kite Pharma deal that brought the therapy to Gilead. The dynamics in the CAR-T space are also relevant for Celgene Corp., which has pushed back potential approval for its own treatment to the middle of 2020, from the end of 2019.