Intrexon, Once a Fighter of Zika, Pivots to Join Pot Mania
(Bloomberg) -- Engineering mosquitoes and salmon didn't capture investors' imagination for Intrexon Corp. So now it's looking to join the marijuana frontier.
The biotech firm run by Chief Executive Officer and Chairman Randal Kirk surged as much as 38 percent intraday, the biggest jump in more than five years, after saying the company had engineered a yeast strain to extract "low-cost, robust and consistent" cannabinoids via a fermentation process for medical use.
Before today, shares had shed more than 68 percent of their value since Sept. 2015 as Intrexon's forays into genetic engineering including tweaking salmon -- dubbed Frankenfish by detractors -- and mosquitoes to combat the spread of the Zika virus failed to curry favor with investors.
With short interest more than 47 percent of equity float, Intrexon is the most shorted name on the Bloomberg World Index and has been a frequent target of short sellers in the past. Bank of America Merrill Lynch analyst Derik de Bruin also grew more bearish on the billionaire-run company earlier this summer when he cut his rating to a sell, saying any payoff for Intrexon's more advanced programs in mosquitoes, fish or genetically modified apples was not likely to be significant before 2020.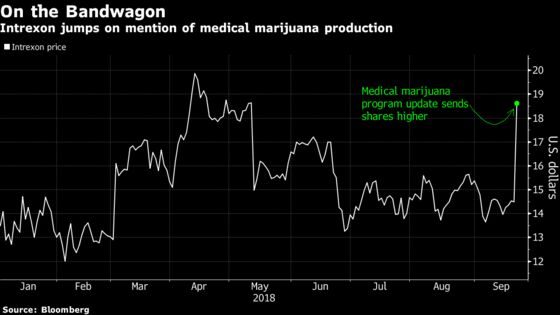 The company's executive director of commercial operations said in a press release strains would be optimized for specific cannabinoids that may be commercialized "in the coming years." A company spokeswoman did not respond to a call requesting comment.