From Toxic Bet to World-Beater: Ruble Traders Toast Fragile Thaw
(Bloomberg) -- In Russia, all it takes for a world-beating rally is a bit of peace and quiet.
A trade-war lull and dovish noises from the Fed have lifted all boats across emerging markets, but rebounding oil and receding sanctions jitters have given the ruble a particular fillip, making it the best-performing currency globally this year. Volatility has dropped since the U.S. administration took steps to reverse its most punishing penalties, while local policy makers' hawkish stance has made the ruble a carry-trade favorite.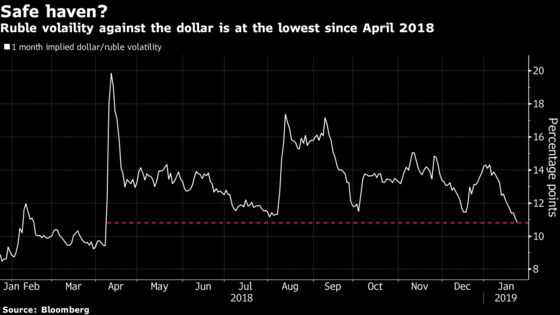 It's a contrast to last year, when geopolitics turned toxic after the poisoning of an ex-spy in the U.K. and markets were hammered by the toughest U.S. sanctions to date for alleged election meddling. But traders know it can go sour again fast. If a ban on new sovereign debt sales were to come into effect, the ruble could sink to its lowest in three years, according to Nomura Holdings Inc.
"People have very short memories and maybe they're thinking that the situation has improved," Julian Rimmer, a trader at Investec Bank Plc in London, said by phone. "As always with Russia, it's only a matter of time until the next crisis comes."
While the sanctions rhetoric hit a crescendo in November before U.S. midterm elections, there's been less talk of harsher penalties so far this year.
Investors started to move back into the ruble as crude, Russia's main export, rebounded to near a two-month high. Two surprise rate hikes last year have preserved one of the highest real rates in emerging markets and buying the ruble with borrowed dollars has returned more than 6 percent so far this year, the best carry trade among developing-nation peers.
After axing debt sales back-to-back in the summer, the Finance Ministry netted its biggest auction in half a year at the start of the month. About 40 percent of the demand at the government's first bond sale this year came from foreigners.
Stable oil prices and fewer geopolitical headlines mean Russia "is seen as a safe haven for emerging-market investors," said Jerome Audran, a credit strategist at UBS Group AG.
The country's bond markets have benefited as investors switched from high-yield to investment-grade issuers, selling Turkey and Argentina in the last quarter of 2018, he said. Russia's local debt returned about 7 percent in dollar terms, the most in emerging markets this year.
But Investec's Rimmer and Nomura's emerging market strategist Henrik Gullberg don't trust the tranquility.
Were the restrictions on sovereign bonds to be imposed, the ruble could tumble back toward 75 per dollar, Gullberg said.
"Further sanctions are coming, but not just yet," said Rimmer. "The window for punting remains open for a little while."