From Geneva to Wall Street, Oil Traders Regain Ground
(Bloomberg) -- Oil traders notched up some of their best results in years in the first few months of 2019, rebounding from poor performance last year.
That's the near unanimous message from senior executives at physical trading houses, Wall Street banks and oil majors.
"It was a good quarter," Ian Taylor, chairman of Vitol Group, the world's largest independent oil trader, said in an interview. That sentiment was echoed in private by three other senior executives at physical trading houses, who said their trading had benefited from a rally in prices from a low point at the end of last year.
The largest global investment banks had their best results in oil trading since 2015 in the first quarter, according to consultant Coalition Development Ltd.
"After a terrible second half in 2018, banks managed to pull it back in the first quarter of 2019," said Amrit Shahani, research director at Coalition.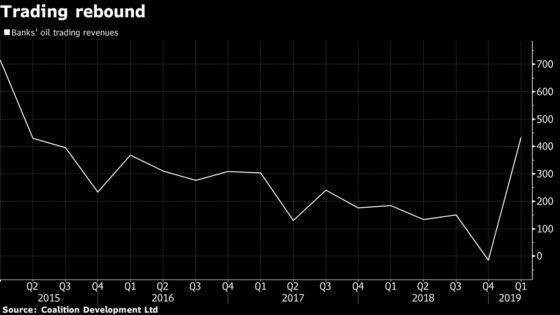 And BP Plc and Royal Dutch Shell Plc, the two oil majors with the largest trading operations, also said their traders had had a good quarter.
BP had a "strong supply and trading performance in both oil and gas" in the first quarter, Chief Financial Officer Brian Gilvary told investors last month. He said trading had added "hundreds of millions of dollars" above its normal earnings level.
Executives point to the smooth upward trend in prices from the start of the year until the end of April, driven by output cuts from Saudi Arabia and Venezuela as one reason for the stronger performance.
The first quarter surge also reflects cost-cutting in some trading houses, notably Gunvor Group Ltd., which restructured its operations in the second half of last year. Across the industry, traders also have given up on streams of oil that were barely profitable to focus on high-margin barrels.
The recovery in trading is a relief for an industry that's been under pressure from weak results and regulatory scrutiny. Oil traders struggled last year, bit by a shift in the market to backwardation -- where near-term prices are higher than future prices -- and higher interest rates.
Trafigura Group, the second-largest independent trader, said earnings from oil dropped 10 percent in its financial year to September 2018 amid "challenging conditions".
And banks suffered in the final quarter of the year as prices tumbled. In particular, banks that had sold derivatives to oil producers –- such as the government of Mexico –- protecting them against a fall in prices were wrong-footed by the sharp drop at the end of the year.
Still, the conditions that helped spur the recovery in trading may already be dissipating. Prices have been choppy since April as investors fret about the impact of Trump's trade war with China on global demand.