Mini-Bills Spring From Italy's Creative-Currency Tradition
(Bloomberg) -- Young Jens Weidmann was puzzled. While vacationing with his family in Italy during the late '70s, the future Bundesbank president wondered why locals sometimes used phone tokens in lieu of actual coins.
It was an early lesson in European economics. With the value of the country's lira falling faster than phone booths could be adjusted, tokens offered an easy alternative. A coin shortage had also prompted Italians to use their ingenuity, with some opting to use candies or stamps for micro transactions, though tokens remained the preferred fill-in currency.
As a top candidate to succeed Mario Draghi as head of the European Central Bank, the 51-year-old Weidmann may yet have to grapple with the fallout from Italy's soft spot for creative currencies.
After the lower house in Rome approved a non-binding motion to speed up late payments to creditors and suppliers, including with mini-Treasury bills, critics have been quick to warn the move is a step beyond what Italy's done in the past -- and that it could jeopardize the country's euro membership.
Also known as mini-BOTS, they are "based on an idea that we are smarter than other nations in the euro region, and that we can use a shortcut to create a currency," said Roberto Perotti, an economics professor at Milan's Bocconi University and a former government adviser on public spending.
Italy has a long tradition of payment innovation. In Renaissance Florence, the Medici family bank funded the clan's spectacular rise to prominence -- four Medicis were popes -- and the city's gold florin coin became the closest thing that Europe had to a common currency.
In 1587, the Venetian Banco della Piazza di Rialto began holding merchant funds on deposit, enabling transactions without cash transfers. By 1617 government creditors were taking payment in the form of credit at Venice's Banco Giro.
Yet for all its exalted banking history, Italy today ranks number one in the euro zone in per capita cash transactions, according to the ECB, and many of the more recent payment innovations can be traced back to distrust of big banks or an inability to get credit from them.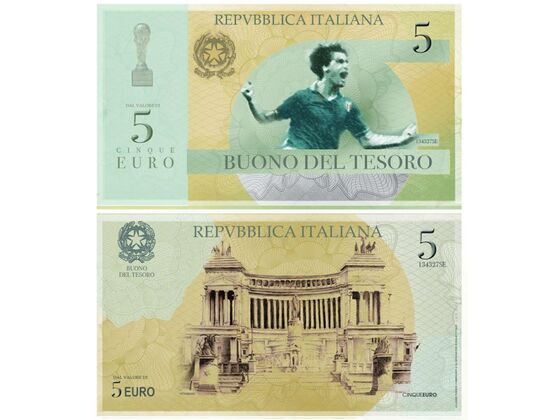 In the 1970s local banks and department stores began offering small-denomination checks for hundreds of billions of lire, as the Bank of Italy struggled to issue coins amid high inflation. Though the bearer checks circulated widely, they weren't technically a currency.
In 2010, a social innovation startup in Sardinia came up with a currency system designed to get around the deepening credit crunch. "Sardex" is an electronic-only means of payment, sidestepping banks altogether. Though the value is set on par with the euro, Sardex can't be exchanged for the common currency and is only valid on the island.
A senior police official even revealed last week that some of Italy's criminal organizations are still using lire, out of circulation since 2002, for illicit transactions. "We still discover huge amounts," said Giuseppe Arbore of the Guardia di Finanza, which probes financial crimes. "When a banknote is accepted by an organization internally, even if it is outside the law as a legal value, it can settle transactions.''
Few of these innovations, though, have ever been viewed as more than mere curiosities. "Phone tokens and all the alternative payments introduced in the past decades were aimed at providing viable solutions to practical difficulties," Bocconi professor Perotti said. "Their limited amount meant they could never replace the official currency."
The furor over mini-bills is a different matter. While Finance Minister Giovanni Tria said Tuesday he doesn't expect the bills to ever be rolled out, the government hasn't always spoken in a single voice on the subject.
Deputy Premier Matteo Salvini on Tuesday vowed to press ahead with the plan, and the controversy has also played into the narrative of Italy's tussle with the European Commission over its spending.
Claudio Borghi, a League lawmaker who's considered a main mover behind the mini-bills plan, said this week that Tria "has not yet understood" the proposal. The bills wouldn't be illegal, he said, "because no one is required to accept them."
Investors are concerned that mini-bills could become a de facto parallel currency, since they would be issued in small denominations including 1, 2, 5 and 10 euros, and could be used not only to pay taxes but also to buy goods and services from the government.
Though the government insists the notes wouldn't be legal tender, bond markets reeled at the prospect of a return to the lira. Leading members of the ruling majority have soft-pedaled those concerns.
"This is about the government dealing with the way businesses recover funds owed to them," euroskeptic Senator Alberto Bagnai, head of the upper house's finance committee, said in an interview earlier this month. "It would be naive and stupid for anyone to think that substituting a tiny part of the currency for such payments would be the prelude to abandoning the euro."