Clashes Between Police, 'Yellow Vests' Erupt in Central Paris
(Bloomberg) -- Protests by the "Yellow Vests" movement led to widespread clashes throughout Paris on Saturday with police firing tear gas and using water cannons against demonstrators who set up barricades, burned cars and tried to approach government buildings.
The Interior Ministry said mid-afternoon that 75,000 people were taking part in a third weekend of nationwide protests. They began against higher gasoline taxes and have now spread to other demands including cuts to politicians' salaries.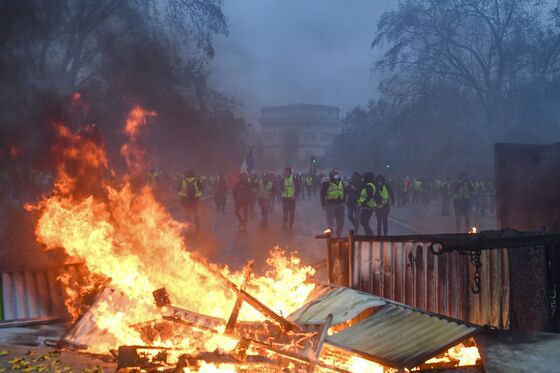 There were road blocks and other protests all around France on Saturday, including the main north-south A6 highway being blocked north of Lyon. Violence was mostly reported in Paris, where there have been more than 200 arrests Saturday with at least 92 people injured, the Interior Ministry said.
Police and people in yellow vests clashed around the landmark Arc de Triomphe, and on streets leading onto the Champs-Elysees avenue. Police fired tear gas and some protesters set fire to cars and trees, threw cobble stones, and looted some stores and restaurants.
A group sprayed graffiti on the Arc de Triomphe, which houses the tomb of the unknown soldier, where 60 leaders on Nov. 11 commemorated the end of World War I. Later in the day, clashes spread throughout the west of the capital, with burning trash and tear gas near the Opera, in the Tuileries Garden, and the Rue de Rivoli, favorite areas for tourists and visitors to the city. Some department stores were evacuated.
Mayor Anne Hidalgo said in a post on Twitter she was "indignant" about the violence, and said "our country is faced with a profound crisis which can only be resolved by dialogue."
Commentators on television said it's the most extensive violence in Paris since the May 1968 student uprisings.
Security perimeters were placed around Emmanuel Macron's Elysee presidential palace and the Matignon residence of the prime minister. Many protesters chanted that Macron should resign.
Macron himself is in Argentina attending a G-20 summit. He referred to the events when speaking to French expats Thursday night, saying it's moments like this that "test the strength of a country, a people, and its government in its ability to keep on its path, without ceding to demagoguery."
While police battled protesters at the Arc de Triomphe at the top of the Champs-Elysees, the rest of the avenue was largely empty with boarded up shops on what should have been a busy Christmas shopping weekend. Even luxury shops on nearby rue Faubourg St. Honore, where no protests were expected, were closed Saturday and their windows boarded up.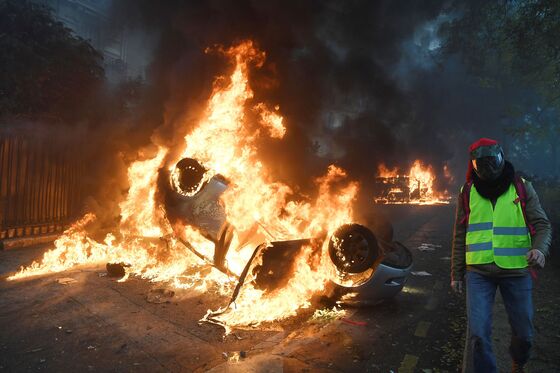 "We had expected trouble and our security services were ready," government spokesman Benjamin Griveaux said on Saturday morning on LCI television from near the Champs-Elysees. "The troublemakers are a small minority. The government is open to dialogue with those ready for dialogue."
At a planned meeting on Friday between the movement and Prime Minister Edouard Philippe only two representatives showed up and one quickly left, saying his request that the meeting be televised live had been rejected.
Many demonstrators in Paris said they felt the police provoked much of the fighting. "I came peacefully, but even I'm ready to fight given how I've seen the riot police behave," said Claude Metayer, a 67-year-old retired army commander, who came to Paris from Pau with his 62-year-old wife Eve, a retired teacher. They said they'd seen police allow protesters into confined areas and then not let them out after firing tear gas, and threatening to fire rubber bullets on peaceful protesters.
The grassroots movement has led to sporadic blockades of roads, fuel depots and warehouses. It's organized through social media and has no leadership, but has the support of three-quarters of the French public, polls show.
The movement's demands have also expanded to higher pensions, an increase in the minimum wage, a repeal of other taxes, the restoration of a wealth tax, a law fixing a maximum salary, and replacing Macron and the National Assembly with a "People's Assembly." While political parties have tried to show their support for the movement, the Yellow Vests have rejected any political link.
Jennifer Nogent, a 33-year old nurse from central France came to Paris for the protests with a fireman and a train driver, all of whom said they'd never been involved in politics before. "The gas taxes were just the final straw," she said. "The prices of everything are going up: electricity, gas, my insurance."