Altice Soars as French Regulator Says He's Open to Mergers
(Bloomberg) -- The on-again, off-again merger dance among French phone companies may be back on again.
Shares of Altice NV soared as much as 53 percent after Sebastien Soriano, the head of telecom regulator Arcep, told Le Monde newspaper that he's more open to deals now that the four main phone carriers have invested billions of euros in their networks, as requested by the agency. Orange SA, Iliad SA and Bouygues SA also gained amid speculation that debt-laden Altice's French unit, SFR, will attract an offer.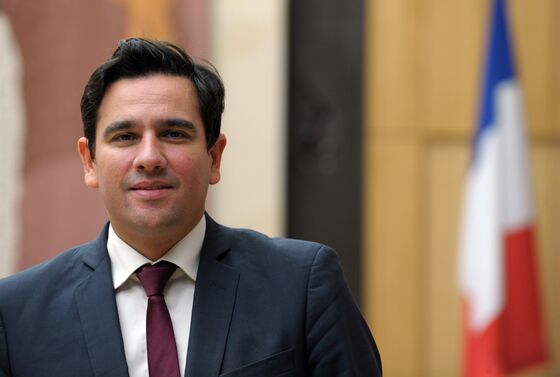 Phone companies have long sought a deal that would reduce the number of main players in France to three, easing pressure on prices that has crimped profitability since Iliad's Free brand began services in 2012 with deeply discounted mobile offers. The last public effort faltered in April 2016 when Orange abandoned a plan to buy Bouygues's phone unit. More recently, people with knowledge of the matter said last month that Bouygues was considering a bid with other investors for Altice's French unit.
The talks between Orange and Bouygues fell apart because the parties couldn't get past issues including antitrust concerns, the French government's worry about job losses and the dividing up of Bouygues Telecom assets such as shops and networks. The regulator also was worried that the negotiations were distracting carriers from much needed investment in fiber, Soriano said in the Le Monde interview.
"Arcep's position when it comes to consolidation is that we aren't for it but we aren't against it in principle," Soriano said at a news conference Tuesday in Paris. While the regulator opposed deals two years ago while pushing for fiber investments, "since operators have answered our plea, this message of total closure isn't relevant anymore."
The French government won't necessarily stand in the way either. If a prospective buyer commits to investments in high-speed networks and seeks to preserve jobs, the state wouldn't block a deal, a top official said Tuesday, asking not to be identified.
Altice, which is listed in Amsterdam, surged 48 percent to 2.46 euros at 1 p.m. The stock fell 7.3 percent Monday after MSCI said it would be deleted from the firm's indexes because of the spinoff of the company's U.S. operations. Monday was the last day to buy the shares to get the rights to the spinoff.
"What is really moving the share price today is the speculation about potential M&A in France," Javier Borrachero, an analyst at Kepler Cheuvreux, said in a telephone interview. The company's heavy debt load "means that any positive news, any improvement has a multiplying effect."
Orange climbed 2.9 percent to 14.71 euros in Paris, while Bouygues advanced 3.4 percent to 41.45 euros and Iliad rallied 3.3 percent to 136.35 euros.
One argument in favor of a deal now: Carriers spent a record 9.6 billion euros ($11.3 billion) in 2017 on network investments, Arcep said Tuesday. "I see that they have heard my call to break open their piggy banks," Soriano told Le Monde.
Spokespeople for Altice, Bouygues and Iliad declined to comment. An Orange spokesman didn't immediately return a call for comment.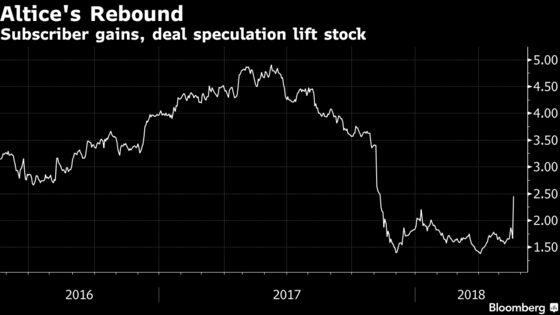 Altice, controlled by Franco-Israeli billionaire Patrick Drahi, reported last week that it added customers at SFR in the first quarter, signaling a turnaround plan for the debt-laden carrier is taking hold. Shares of Iliad, meanwhile, plunged 20 percent on May 15 after the company controlled by billionaire Xavier Niel said it lost broadband customers in the first quarter for the first time in its history.
This month, Drahi told reporters he isn't willing to sell Altice's French unit and that he hadn't been approached by potential buyers.
Altice's first-quarter broadband gains were bigger than those of Orange, the former France Telecom monopoly that is still 23 percent owned by the state, and Bouygues Telecom, owned by the Bouygues construction conglomerate.