French Strike Is Worse Than Yellow Vests for Holiday Retail
(Bloomberg) -- French retailers' holiday sales have suffered more from the current strikes over a proposed pension overhaul than they did during the Yellow Vest protests last year, according to a trade group.
In Paris, where public transit workers have been on a walkout since Dec. 5, members including electronics retailer Fnac Darty SA and Inditex SA's Zara brand reported an average drop in sales of 25% to 30% for the second week of December.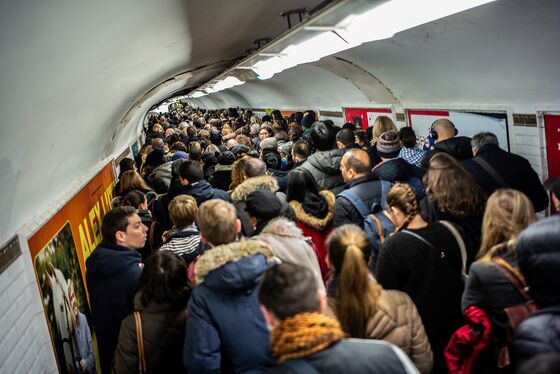 The decline, compiled by specialty retail federation Procos, follows a weak performance a year earlier, when weekend demonstrations against President Emmanuel Macron shut down the city's most popular shopping districts. Compared with the more typical figures from 2017, sales last week were 40% to 45% lower.
"It is bad news in a terribly difficult sector and country," said Bruno Monteyne, analyst at Sanford C. Bernstein.
In the rest of France, sales also fell from a year earlier, by an average of 9% to 10% last week, the group said. Hotels and restaurants are also getting hit as consumers stay home after cumbersome commutes.
This second year of disruptions comes as retailers struggle to cope with lackluster economic growth and the rise of e-commerce. A push among shoppers to consume more responsibly is also putting pressure on retailers to pay closer attention to the provenance of goods and their environmental impact.
"Retailers are already having to reinvent themselves," Procos Managing Director Emmanuel Le Roch said. "There's a risk that lost sales from these disruptions will leave them without the means to adapt."
Last year, sales bounced back during the final week before Christmas as shoppers purchased last-minute gifts, partially offsetting the lost business from Yellow Vest protests. This year, as striking continues and with major demonstrations planned for Tuesday, it's unclear whether retailers will see a similar rebound.
Retailers are in "grave difficulty," said Jacques Creyssel, spokesman for the FCD trade group, representing large retailers.
The government needs to do more to help ensure the survival of physical stores by lowering their taxes and loosening restrictions on Sunday and evening opening hours, he said. This will put them on more of a level playing field with Amazon.com Inc. and other online sellers.
"The future of retail is in question," Creyssel said. "If we don't make it so physical stores have the same rights as Amazon, they'll disappear."