Macron Rejects Breakup of France's Largest Utility
(Bloomberg) -- The French government rejected the idea of breaking up Electricite de France SA and said it could reinforce its shareholding to help the nation's largest utility make investments in future projects.
"We want EDF to remain an integrated group," Ecology Minister Francois de Rugy said at a briefing in Paris on Tuesday after President Emmanuel Macron outlined a raft of new energy proposals. "There are possibilities to have parent companies and subsidiaries. We are going to work on these possibilities."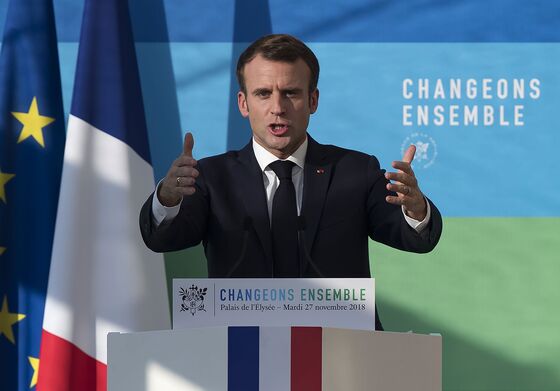 The government's proposals remain vague, and EDF shares tumbled as investors grappled to make sense of the plans. The stock dropped as much as 4.5 percent, the biggest decline in six months, and was down 2 percent at 13.70 euros as of 3:26 p.m. in Paris.
"There was some speculation on a potential split" that would give nuclear assets to the state and leave a "cleaner" company, said Pierre-Antoine Chazal, an analyst at Bryan, Garnier & Co. The market is "a bit wrong-footed" as the government "isn't giving a very comprehensible speech regarding that speculation."
France is in the process of redefining its long-term energy policy, shifting away from the nuclear plants that have dominated power generation for decades in favor of renewable sources like wind and solar. That's raised questions about the financial viability of EDF, which also faces significant funding challenges related to maintenance and construction of reactors.
As part of this energy transition, Macron ordered EDF to close four to six reactors by 2030, in addition to two units in Fessenheim that will be halted in 2020. The final number will depend on security of supply and whether neighboring countries reduce coal-fired output and drive up renewable-energy production, ensuring low power prices across European markets.
While EDF had lobbied for no nuclear shutdowns before 2029 -- except for its two Fessenheim units at the German border -- Macron's decision stops short of demanding more closures by 2028 that were sought by De Rugy.
"It's not EDF's dream scenario, but it's not the worst-case scenario either," Chazal said.
EDF's chief executive officer, Jean-Bernard Levy, has the government's support and there are no questions about the utility's governance, an official in Macron's office said earlier, asking not to be named in line with government policy. The company must come up with a plan to better cope with financial challenges in nuclear and renewables, networks and energy services, according to a document handed out by the presidency.