French Power Supplier Sees Price Hikes Imperiling Small Players
(Bloomberg) -- A recent surge in French wholesale electricity prices may endanger the financial health of some small energy distributors, leading to possible consolidation, according to the head of supplier EkWateur.
Spot power prices in France and neighboring countries have risen following a hike in the cost of carbon permits, coal and gas, as well as plant shutdowns. Benchmark French electricity futures are near a 13-year high.
"When spot prices are rising, if you're not hedging, you're at risk," Julien Tchernia, chief executive officer of EkWateur, said in an interview. Most retailers have been careful to hedge, "but it may be that some haven't."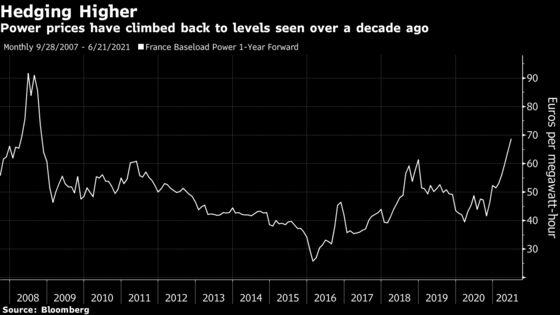 Market volatility in a crowded industry has prompted several energy retailers to fold in the U.K. in recent years. That environment may also create challenges for distributors in France, leading some to combine, according to Tchernia, whose company is the fifth-largest power and gas supplier in the residential market.
Power producers themselves stand to gain from the jump in prices. France's biggest electricity generator, Electricite de France SA, could see a 3% to 4% increase in the regulated tariffs paid by households next February if market prices remain near current levels until the end of the year, Tchernia said.
To shore up finances at the state-controlled utility -- and without saddling customers with large tariff hikes -- President Emmanuel Macron is seeking to push through market reforms. The new regulations would allow EDF to sell its French nuclear output at a higher price, while capping increases over time regardless of moves in wholesale markets.
For the distributors, the recent price rises have made it harder to acquire new customers, Tchernia said, adding that it's less of an issue for EkWateur since its marketing is based not on prices but on a guarantee of 100% renewable energy.
EkWateur has a 0.5% share of France's power and gas supply market, with about 300,000 customers. It postponed an initial public offering in Paris last month citing unfavorable market conditions, and is now looking at options to raise about 40 million euros ($48 million) to boost growth, according to the CEO.
"We still want to raise funds," he said. The company, which he co-founded in 2015, will decide on a "way forward" for this by the end of the summer.