French Government Hints It May Abandon Fuel Tax Increases
(Bloomberg) -- A day after Emmanuel Macron suspended for six months the implementation of an unpopular increase in fuel taxes, the French government now is saying the higher levies may simply be abandoned.
The increase "has been suspended," government spokesman Benjamin Griveaux said Wednesday on RTL Radio. "We will open a debate, and if we can find other solutions, we will give it up."
Prime Minister Edouard Philippe, who announced the suspension in a televised address Tuesday in an attempt to calm the so-called Yellow Vests protests that have swept France for more than three weeks, will speak Wednesday to parliament, followed by a debate in which opposition parties will compete over which one is more in tune with the growing mood of contention. A non-binding vote will follow, which the government will almost certainly win because it holds a solid majority.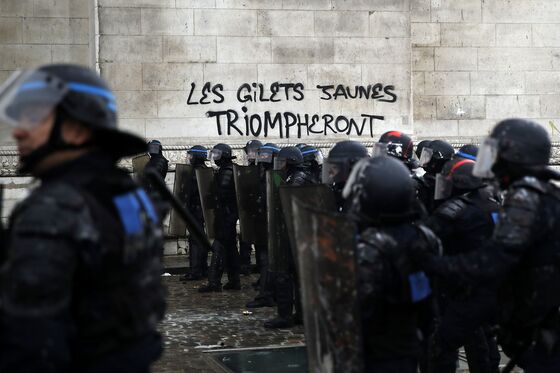 Among other developments:
Splits are appearing among the Yellow Vests, a grassroots movement that has yet to develop a real leadership. Most protesters interviewed said Philippe's announcements were too little, too late to stop the movement, and some early founders of the movement have called for another round of demonstrations Saturday in Paris. But Cedric Guemy, one of 10 who wrote a letter to the government in a Sunday newspaper, told Franceinfo radio that while he wasn't satisfied with Philippe's announcements, another day of violence was counter-productive and the Yellow Vests should accept Philippe's offer to negotiate.
Members of the government are starting to suggest that there could be a return of the wealth tax Macron abolished in 2017. The first was Gender Equality Minister Marlene Schiappa who said Tuesday on France 3 TV that if abolishing the tax doesn't lead to money trickling down to the real economy, then she would favor re-introducing it. Griveaux said Wednesday that a return of the tax, called ISF in French, isn't on the table now but the government in late 2019 could start to evaluate whether it has helped boost investment.
Protests are spreading to other sectors. French Education Minister Jean-Michel Blanquer said that about 200 high schools were blockaded by students Tuesday, the same level as the day before. They are angry about changes to France's graduation exams. And truckers' unions have called for an unlimited strike to begin Sunday in a dispute about overtime pay.
Macron last year used social media to criticize Donald Trump when the U.S. president withdrew the U.S. from the Paris climate accord. Now Trump is returning the favor after Macron suspended the fuel taxes, which were meant to wean France off fossil fuels:
But another re-tweet post from Trump was wrong: No one has heard any chants of "We Want Trump" during the French protests: