Franklin Pins Its Hopes for a Turnaround on Technology and Deals
(Bloomberg) -- Its business model is out of fashion. Its fund family has suffered six straight years of outflows. Its stock has the lowest Wall Street ratings of any major money manager.
No wonder Franklin Resources Inc.'s shares are down 48% in the last five years, and the firm, which oversaw $693 billion as of Sept. 30, has lost almost a quarter of a trillion dollars in assets since its 2014 peak.
Instead of hitting the panic button, the company is betting that new technology and an $8.5 billion cash hoard for acquisitions can engineer a turnaround. Franklin is opening a financial technology incubator next week at its San Mateo, California, headquarters. And it will be savvy in hunting for deals that spur growth, according to Jenny Johnson, president and chief operating officer.
"We're going to be patient and make sure it's the right thing to do," she said in an interview.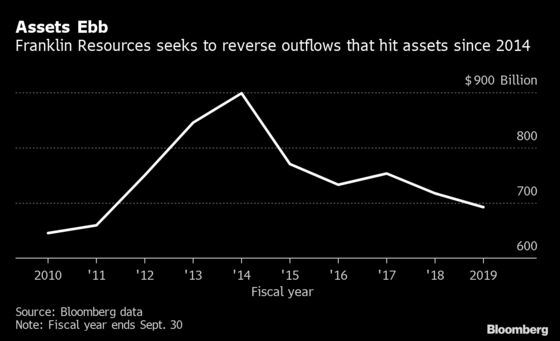 Johnson, whose grandfather started Franklin in 1947 and named it for an American founding father, only needs to look out her Silicon Valley office window to see how tech disrupts established businesses. Across the investing world, robo-advisers, index funds and zero-fee trades are undercutting revenue.
With her brother, Chief Executive Officer Greg Johnson, she's trying to bring the spirit of innovation inside the firm's granite clad colonial-style buildings.
On Oct. 15, Franklin will hold a ribbon-cutting for the fintech incubator on its leafy campus. In a shared work space, representatives from early-stage firms in payments, cybersecurity and other specialties will be side by side. For the host, it's a chance to get early looks at ideas, talent and potential acquisitions, according to Rory Moore, CEO of Franklin's partner in the operation, startup mentor EvoNexus.
"They're really worried about their future," Moore said. "Every month, there's a company founded somewhere in California that's going to completely disrupt areas of financial institutions."
If not disrupt, enhance. An example is Random Forest Capital, a startup Franklin bought last year whose machine-learning tools screen massive amounts of consumer-debt data to detect credit risks that elude traditional analysis. The insights complement but won't replace human managers, according to Sonal Desai, Franklin's chief investment officer for fixed-income.
"We're taking big steps where our fixed-income is going to have a competitive edge," she said.
Tech advancement alone won't salvage the money-management industry, according to Eric Jacobson, a senior analyst at Morningstar Inc.
"This is the price of being in business," he said. "It's hard to imagine such a thing as a silver bullet."
The question is whether change can come fast enough for Franklin's franchises in actively run international, value and income funds.
The Templeton Global Bond Fund, headed by high-profile manager Michael Hasenstab, trails more than 80% of peers this year, hurt by holdings in Argentina and a misplaced bet that long-term U.S. interest rates would rise. Assets dropped to $30 billion at the end of September, less than half their peak five years earlier.
Since the 2008 financial crisis, Franklin's forte as a value investor has been challenged as growth stocks generated better results. That has put the firm on the defensive but it's not a reason to jump ship, Johnson said.
"Our job is to make sure the integrity of the investment process is pure and that value guys stick to value," she said. "That means giving them a little bit of air cover when they're getting beaten up."
Franklin, which went public in 1971, expanded through key acquisitions such as the 1992 purchase of Templeton, Galbraith & Hansberger Ltd. More recently the firm has been slow to change. It launched exchange-traded funds in 2014, long after rivals like State Street Corp. and Vanguard Group.
Still, mergers and acquisitions aren't a cure-all for fund companies. The stocks of Invesco Ltd. and Janus Henderson Group Plc have fallen since those firms made major strategic deals.
Franklin is looking for deals that would broaden its product lines, distribution capability or geographic footprint, Johnson said. Former Citigroup Inc. executive Matthew Nicholls started in May as chief financial officer with M&A bona fides cited in the hiring announcement.
Deal prospects, and a selloff that has left traditional asset managers cheap, spurred JPMorgan Chase & Co. analysts led by Kenneth Worthington to upgrade Franklin to neutral last month. They cited the firm's potential to "outperform if it acquires the right franchise."
Not everyone is as sanguine. This week, BMO Capital Markets began covering Franklin with an "underperform" tag, citing ongoing fee pressures and the industrywide active-to-passive rotation. That brought Franklin's Wall Street ratings to eight sells, seven holds and zero buys, the lowest aggregate score in Bloomberg's index of big investment managers.
"We run our company thinking about the clients," she said. "And if we run our company thinking about that, we're going to get the stock price right."