Deutsche Bank Sees Frankfurt as New London Amid Brexit Gloom
If Deutsche Bank AG Chief Executive Officer Christian Sewing has his way, Frankfurt will be Europe's new London.
"There's a passionate debate about which European city should be the continent's counterpart to London, New York and Singapore," Sewing -- whose bank is based in the German financial capital -- said at a conference. "You won't be surprised by me saying that Frankfurt should be the natural choice."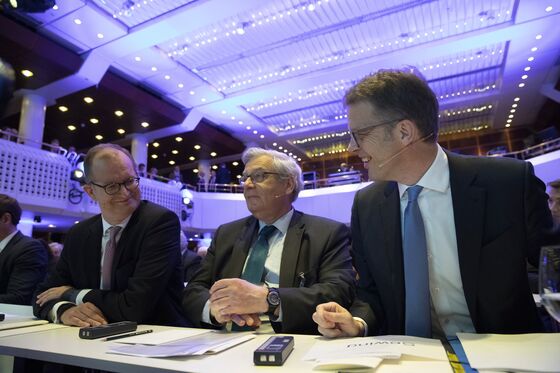 With Britain hurtling down the path to losing its unrestricted access to the European Union's financial markets, cities from Amsterdam to Madrid and Paris are jostling to lure financial business away from the U.K. capital. Deutsche Bank is planning to move hundreds of people and multiple billions of euros in balance sheet assets to Germany's financial capital as it adapts its organizational set-up to the post-Brexit world.
The continued uncertainty over Brexit is playing into the hands of the continent's would-be financial centers. U.K. Prime Minister Theresa May's government and this week's Brexit deal are on the verge of unraveling after several ministers resigned. Jean Lemierre, the chairman of BNP Paribas SA who was also at the conference in Frankfurt, said that Brexit is causing more turmoil than the risks surrounding Italy's budget proposals.
"This is what I would mention as the turmoil, more than Italy, it's Brexit," Lemierre said. "I don't know, we don't know, I don't think anybody knows, the British don't know."
The European Central Bank and national financial regulators have made it clear they expect firms to establish full-service operations with boards of directors, risk-management teams, and compliance capabilities within the EU's borders. That means institutions that have long used London as a gateway to Europe will have to continue relocating people, capital, and back-office operations.
Sewing made a half-joking reference to the rivalry between cities as he addressed his French counterpart on the panel. "Jean Lemierre will most probably argue that Paris has its advantages, too," Sewing said. "I think we need to make this sporty: competition will make Frankfurt and Paris better."
Both cities have had wins as banks make their post-Brexit preparations: Goldman Sachs Group Inc. and Morgan Stanley are moving people to Frankfurt, while HSBC Holdings Plc and Bank of America Corp. are favoring Paris.
Sewing said that Frankfurt should be "the natural choice" as the financial center on the continent, citing the regulators based in the city and its infrastructure. He's long argued not only that Europe needs a strong financial center but also that it should have strong banks that can offer an alternative to U.S. lenders.