France Pushes Back Against Mooted $12 Billion EDF Delisting
(Bloomberg) -- The French government pushed back against a suggestion that it would spend 10 billion euros ($11.9 billion) buying out minority shareholders of Electricite de France SA as negotiations with the European Commission continue over plans to shore up the utility's finances.
A spokesman for the French Finance Ministry declined to confirm that figure, while a person familiar with the government's plans said it was significantly overstated.
Sebastien Menesplier, a leader at the CGT union, earlier told Bloomberg the government plans to spend 10 billion euros to buy out minorities as part of broader reforms to buttress EDF's finances. Menesplier cited a presentation made by Finance Minister Bruno Le Maire to union representatives on Tuesday.
"I can't give any kind of figure which would be credible since we do not have the details of the reform," le Maire said in a Bloomberg Television interview on Wednesday. "I hope we will find a common ground" on new regulations for EDF with its unions and the Commission, he said.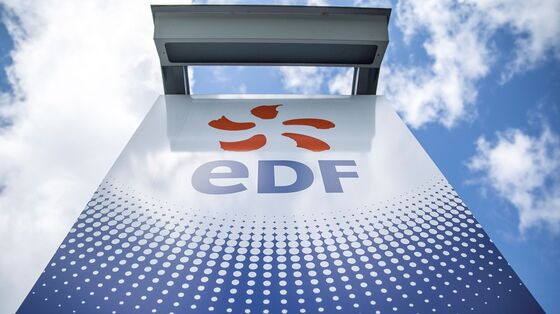 The 16.3% of EDF that the government doesn't currently own is valued at about 5.7 billion euros at Tuesday's closing price. EDF jumped at the open in Paris on Wednesday, and was up 9.5% at 12.29 euros as of 11:34 a.m. local time.
Based on the current stock price, acquiring 16% of shares would cost around 6 billion euros, plus about 3 billion euros for a convertible bond, so the 10 billion-euro figure would represent a premium of about 16% -- assuming that is France's plan -- analysts at JPMorgan Chase & Co. said in a note.
Reuters first reported the CGT leader's comments, citing Le Maire. CFDT union representative Sebastien Michel also said the minister had given that figure.
EDF has long complained that the regulated price of its nuclear power sales to rivals doesn't allow it to fund the mounting cost of reactor maintenance and investments in renewables. It's seeking consent from the European Commission for a higher price for its entire nuclear output, enabling it to better compete in Europe as other utilities expand market share and oil majors enter the clean-energy space.
Earlier this year, Le Maire and EDF Chief Executive Officer Jean-Bernard Levy expressed concern that the commission, whose role includes maintaining fair competition in the European Union, wanted to break up the utility to ensure that a higher power price didn't give it an undue advantage.
In Tuesday's meeting with unions, Le Maire said that no EDF overhaul would take place before next year's presidential election without the support of unions, according to the CFDT's Michel. Unions reiterated their opposition to the government's restructuring plan, calling it a dismantling of the company.
"If we want this reform to be successful, of course we need the support of the unions, or part of the unions," Le Maire told Bloomberg Television.
The regulated price for EDF's nuclear power could inccrease by 7 euros to around 49 euros a megawatt-hour, the CFDT and CGT union officials said.
Talks with the commission are continuing and have shown little progress in recent weeks, according to people familiar with the French government's plans.
Provided satisfactory regulation is approved, Levy has said most of EDF's non-nuclear divisions would be placed in an entity majority-controlled by the parent company. To boost investment in renewables, EDF could list as much as 30% of that entity, which would include EDF's wind and other power assets. The nuclear business would be 100% owned by the government.
The government could offer to buy out minority shareholders by paying mostly with shares from the renewable division, with a limited portion in cash, according to the person familiar with its plans.