France Cracks Down on Surge in Mortgage Lending Amid Low Rates
France sounded the alarm on mortgage lending and warned banks they must tighten conditions or face the possibility of having to set aside more capital.
The financial stability council will issue a formal recommendation that banks limit loan terms to 25 years and ensure that repayments are not greater than a third of borrowers' net income. In the future, it could order banks that don't fall in line to set aside more capital.
The warning shot from the Haut Conseil de la Stabilite Financiere is an indication of the how national authorities in the euro area may increasingly have to intervene to mitigate the side-effects of the European Central Bank's ultra-loose monetary policy.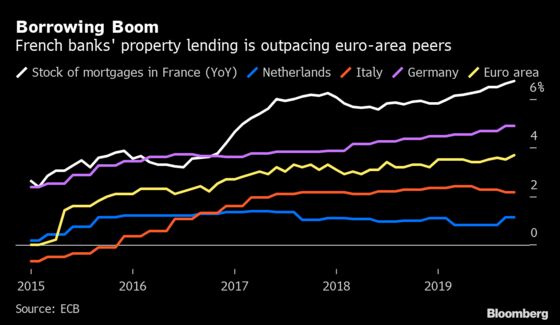 Rates at record lows have fueled borrowing, and authorities were already on the lookout for ways to contain risks from rising household debt and falling bank profitability. An official at the French Finance Ministry said that at present around 28% of new mortgages don't follow the income ratio recommendation.
"We've taken sensible precautionary measures," said Bank of France Governor Francois Villeroy De Galhau. "They will protect French households from the risks of excessive debt from real estate borrowing."
Taking action is easier said than done as many measures -- in particular making it harder to borrow -- can prove unpopular with voters. Regulators may also be pulled in different directions. France's HCSF, for example, has a political element as it includes the finance ministry as well as the central bank, the markets watchdog and the prudential supervisor.
The financial overseer came under fire from banks in March when it decided to force them to set aside more capital amid a surge in corporate lending.
"The aim of these measures is to preserve healthy practice that ensures the resilience of the French model for financing housing," the HCSF said Thursday.
It will give banks some leeway. Up to 15% of new mortgages could flout the recommendations so long as they are mainly for first-time buyers and people buying their main home. But it also ordered detailed reporting on mortgage rates to ensure that banks are covering their risks sufficiently.
The way so-called macro-prudential decisions are taken may be up for review. In November, Bank of France Governor Francois Villeroy de Galhau said tools for ensuring stability have not kept pace with dramatic expansion of monetary policy into negative rates and asset purchases.