Gas Frackers Seek More Support From U.K. as Drilling Date Nears
(Bloomberg) -- Weeks away from fracking its first well in seven years, Britain's oil and natural gas industry is stepping up complaints that the government is moving too slowly to approve further projects.
U.K. Onshore Oil and Gas Group, which represents companies including the oil explorer Cuadrilla Ltd., said it takes 35 to 50 weeks to get approval for a new well, up from an average of 12 weeks before the practice was banned.
"The current planning system is very inefficient, and slow," said Ken Cronin, chief executive officer of the industry group. "What the industry needs is to understand the geology beneath our feet so we can start to extract shale gas for the economy."
The remarks underscore the tensions roiling Prime Minister Theresa May's Conservative government about using the practice known formally as hydraulic fracturing. So-called fracking wells have led to a boom in oil and gas production in the U.S., where the process is widespread. The U.K. government halted it after it caused  earthquakes at a drilling site in Lancashire in northern England in 2011.
A group of Conservative lawmakers are opposing an attempt to streamline the approval process that has been proposed by Energy Minister Claire Perry. The new system would scrap the need for authorities to approve seismic surveys and test drilling, reducing the powers of local officials to block drilling.
Environmental campaigners say that the latest move would make it as easy to start drilling as it would be to build a fence. Perry has called for:
Forming Shale Environmental Regulator and new Planning Brokerage Service to improve and speed up process
Setting up a 1.6 million-pound ($2.1 million) shale support fund over the next two years to back the technology
Consult on whether early shale exploration should be considered "permitted development"
"The problem is that people don't like fracking," said Lee Rowley, a Conservative lawmaker whose northern England constituency has one live application for a test shale well. "So let's not treat the symptom of the problem -- planning going slowly -- let's treat the problem. I don't think we should bother with fracking because people's minds aren't going to change on this one."
Fracking involves pumping fluid and sand-like particles into wells under pressure high enough to break apart underground rock formations. The process frees petroleum deposits trapped in less permeable reservoirs to flow more freely to the surface.
It's one of the few technologies that could slow or even reverse the sharp declines in oil and gas production from the North Sea as conventional deposits are pumped dry. Britain prospered in the 1980s and 1990s with wealth tapped by the oil industry and has enjoyed less income from the industry since production peaked.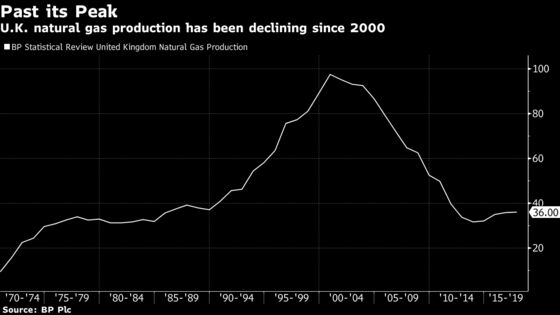 While the government wants more drilling, the process of getting new developments approved remains cumbersome, according to industry groups. Five regulators are involved, including the Oil and Gas Association, the Environment Agency and the Health and Safety Executive. Local officials also must sign off and can cause significant delays.
"Right now the U.K. possesses massive reserves of natural gas -- years' worth of energy beneath our feet," Ineos Group Ltd., which has approval to drill two wells and applications for two more, said in a statement. "However, our Byzantine planning system has snared this budding industry, ensuring that the U.K. is dependent on foreign energy from places such as Russia and the Middle East."
Cuadrilla is between two and three weeks away from fracking a well that's drilled and awaiting the treatment. It would be the first since the ban.
``We do need faster and fairer decision-making on planning decisions on shale operations, and the proposal for providing additional resources to help local authorities should be welcomed,'' Cuadrilla said.
It'll take three months to extract the first flow of gas from the Earth's crust before it can be tested for commercial viability, which should happen in the first quarter of 2019, a company spokesperson said. About 30 lorries arrived on site Sept. 24 to deliver fracking equipment for the U.K.'s first horizontal shale exploration well.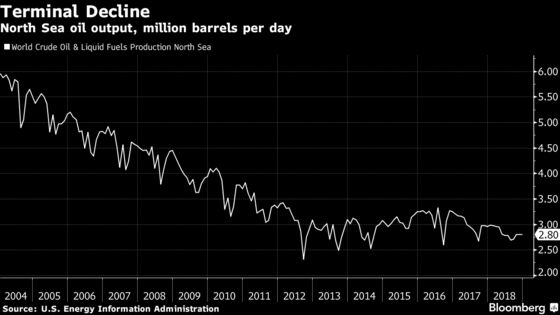 Protesters are seeking to hold up work at various sites around the country. Several local councils have opposed the practice.
Cuadrilla and Ineos have both turned to the courts to get injunctions to prevent protesters from stopping them going about their work although a group of protesters permanently stationed opposite Cuadrilla's Lancashire site remains.
Three anti-fracking protesters were jailed for as long as 16 months Wednesday after the men were found guilty of causing a public nuisance at the Lancashire site.
Critics argue that fracking poses public health risks and also would keep the U.K. wedded to fossil fuels, making it less likely the nation meets emissions targets set out in the Paris Agreement. The opposition Labour Party said it would ban fracking. It's also halted in Scotland, Wales and Northern Ireland.
"With carbon budgets set to tighten in the future, it doesn't seem to be in anyone's interest to use them up on fracking," said Jonathan Marshall, head of analysis at the Energy and Climate Intelligence Unit, a research group.
Britain is Europe's biggest gas consumer after Germany. Once a major producer, the U.K. is ever more reliant on imports and mainland Europe's gas storage sites because it's closing its biggest domestic store, which is so old the facility became unsafe to operate.
Surveys of what lies beneath Britain's surface suggests areas of untapped gas across large swathes of northern England and the Midlands. The British Geological Survey estimates that there's more than 1,300 trillion cubic feet of gas in an area that stretches from Wrexham in Wales to Blackpool in the west of England and Nottingham to Scarborough on the northeast coast of England.
Cuadrilla has permission to drill and frack four wells in northern England. Third Energy U.K. Gas Ltd. has been granted permission to frack an existing tight gas well in the region. A 2014 study commissioned by UKOOG and published by Ernst & Young projected that U.K. shale gas could add 64,000 jobs and 33 billion pounds to the British supply chain.
"There are doubts over how much fracking can actually contribute to the U.K.'s energy mix, with initial forecasts of a booming industry now drastically reduced," ECIU's Marshall said.