Foxconn Says It Will Build Wisconsin Plant After Trump Talks
(Bloomberg) -- Foxconn Technology Group said it will proceed with plans to build a factory in Wisconsin after U.S. President Donald Trump and company Chairman Terry Gou discussed the matter. The development follows reports that the company was considering jettisoning the large-scale project that had promised to bring 13,000 jobs to the Badger State.
The company's announcement is an about-face from its stance earlier in the week, when the electronics manufacturer said it was reassessing its plans. Foxconn said Wednesday that it was deliberating whether it would be economically feasible to develop liquid-crystal displays for televisions at its planned technology campus south of Milwaukee, which is known as Wisconn Valley.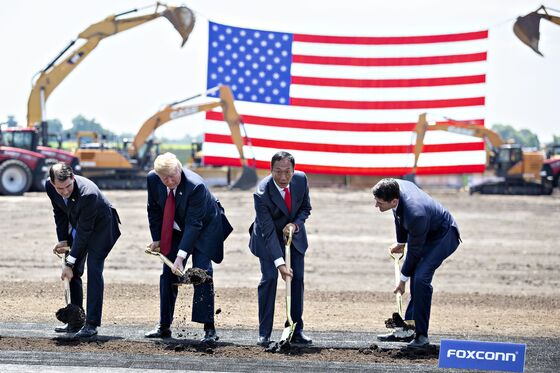 "In terms of TV, we have no place in the U.S.," Louis Woo, a special assistant to Gou, told Reuters on Wednesday, citing cost concerns compared with manufacturing in Asia. "We can't compete."
But Foxconn announced Friday that it would be pursuing an LCD factory in Wisconsin, after all.
"After productive discussions, between the White House and the company," and a personal conversation between Trump and Gou, "Foxconn is moving forward with our planned construction of a [Generation] 6 fab facility, which will be at the heart of the Wisconn Valley Science and Technology Park," the Taiwanese company said.
At a Foxconn company party, Gou confirmed that he spoke with Trump on Friday, and that the president wanted him to hire veterans and bring talent from U.S. coastal areas to the Midwest. He said he also met with Trump to discuss the Wisconsin plant during a trip to the U.S. in December.
"The U.S. is the biggest market in the world," Gou said on Saturday. "It has a great business environment. For our group, investment in the U.S. is completely right and it fits into the direction future economy is heading to."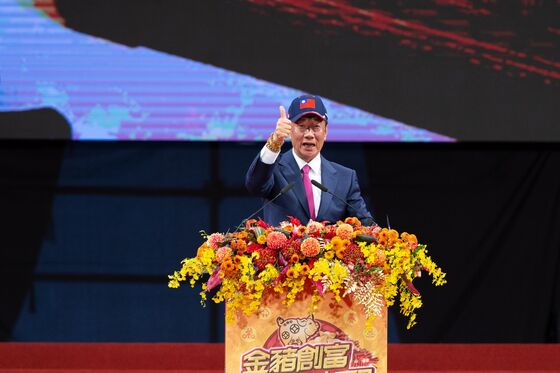 Foxconn's flip-flopping is the latest example of its evolving vision about spending $10 billion to expand in the Midwestern U.S. state since 2017 when Gou and Trump unveiled the project to much fanfare. The company had secured billions of dollars in potential incentives from the state in exchange for meeting capital investment and hiring targets, but the deal has grown increasingly controversial with critics, including Wisconsin's new governor, Tony Evers, who has described it as "lousy" and too expensive for taxpayers.
Trump has been a central figure in Foxconn's planned expansion into the U.S. The earliest discussions for the project with Wisconsin officials took place at the White House in April 2017, and Trump has appeared at a number of corporate events to herald the potential of the state's investment in the manufacturing giant, framing it as a victory for his ongoing trade war and for his push to bring factory jobs back to the U.S. from China and elsewhere.
"Terry is a friend of mine, and I recommended Wisconsin [to him]," Trump said at a groundbreaking ceremony for Foxconn's Wisconsin campus last year. "We're restoring America's industrial might."
In the past year, however, Foxconn's plans for Wisconsin have gone through a variety of unexpected changes, which have raised doubts about whether the project will live up to Trump's and Gou's promises. For one, Foxconn has indicated that the vast majority of employees would be "knowledge" workers, meaning engineers or scientists, rather than factory laborers.
Even the company's renewed commitment Friday to building a Generation 6 LCD facility represents a stark downgrade from its original plan. Foxconn had initially agreed to build a Generation 10.5 plant, a much larger operation, in its contract with the state, but scaled back that commitment last year due to cost concerns. Foxconn, the biggest assembler of Apple Inc.'s iPhones, is known as Hon Hai Precision Industry Co. in Asia.
Still, Trump hailed Foxconn's move today in a tweet: "Great news on Foxconn in Wisconsin after my conversation with Terry Gou!"