Four Fed Rate Hikes Are Priced In, and Jamie Dimon Wants More
(Bloomberg) -- When it comes to expectations for Federal Reserve rate hikes, what was once seen as radical has practically become conservative. 
Just a few weeks ago, predicting that the Fed would raise rates four times in 2022 would have been considered wildly ambitious. Now, not only is that being priced in, but JPMorgan Chase & Co. CEO Jamie Dimon is saying the U.S. economy can handle even more.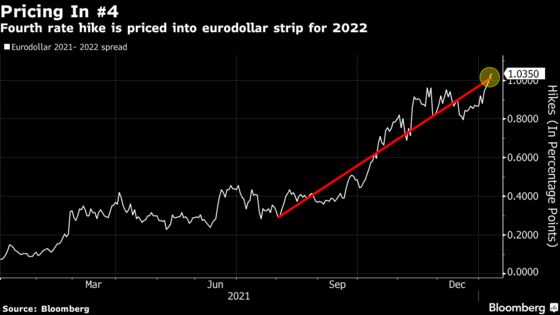 That said, the market remains divided on just how much the Fed will move in 2022. The central bank's dot plot still only shows three rate increases this year, but Wall Street is becoming increasingly hawkish. Goldman Sachs Group Inc. now expects the Fed to raise rates four times this year and start its balance sheet runoff by July at the latest. That echoes similar calls from Citigroup Inc., Deutsche Bank AG and JPMorgan last week. And some are willing to go even further. 
"I, personally, would be surprised if it was just four rate increases next year," Dimon said. "I think four increases of 25 basis points is a very, very little amount and very easy for the economy to absorb." He pointed to debt payments, increased income and a strong housing market as economic tailwinds.
The idea of four rate hikes in 2022 has accelerated in the first 10 days of the year and is quickly turning into a Street consensus. The spread between the 13th and 1st month fed funds contract, another way to measure rate hike expectations over the next 12 months, shows 3.9 increases priced in. The steepness of the move is most significant, as those expectations have accelerated far more quickly than even the push to cut rates during the trade war in 2019.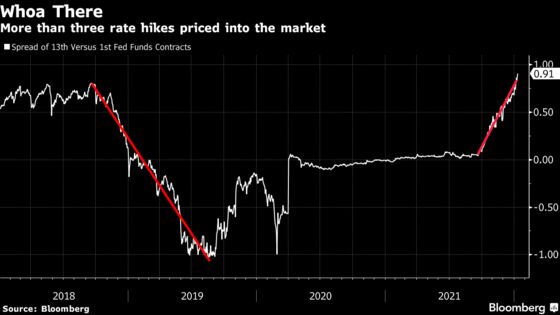 Nominal rates are getting the message too. Yields on 10-year Treasury notes have risen 47 basis points on an intraday basis since the start of December, which is the equivalent of almost two rate hikes. Some traders are even hedging against the risk of as many as six rate increases, with bets going as far as suggesting eight quarter-point moves by early 2024.
With Fed Chair Jerome Powell's congressional confirmation on Tuesday and inflation data due Wednesday, balance sheet reduction is also worth bearing in mind. Whether it happens at the same time as the first rate hike is crucial, as is the method the central bank uses. Selling bonds on the open market would have drastic ripple effects on financial markets. But buying shorter maturity securities and letting them roll of the balance sheet faster also remains an option. 
What's clear is the Fed has many options at its disposal. And it's the uncertainty of what it's about it do that's leading to bond-market bets that were considered extreme just a few weeks ago.