Foster's 'Blood Red' Lines Pose Threat to Brexit Endgame
(Bloomberg) -- Don't underestimate Arlene Foster.
All sides seem to be moving towards an agreement on the thorniest question dogging Brexit talks -- how to avoid a hard border in Ireland after the U.K.'s departure from the European Union. Except Foster, who has so far refused to budge.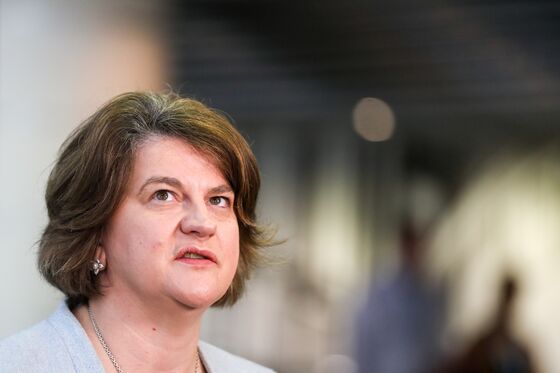 The Democratic Unionist Party leader is a central figure in efforts to unlock a Brexit deal, as U.K. Prime Minister Theresa May effectively relies on the party to keep her in power. And Foster has already signaled her opposition to new ideas being floated to break the deadlock, suggesting they would cross what she described to the BBC as her "blood-red" line. That may be a negotiation tactic. But experienced observers urge caution.
The U.K. government is considering allowing checks on goods between Northern Ireland and mainland Britain, according to people familiar with the situation. It's an attempt at a compromise on the so-called Irish backstop, a clause in the divorce deal that aims to guarantee no new border emerges on the island of Ireland. The DUP rejects any backstop that divides Northern Ireland from the rest of the U.K.
"The DUP's language on new regulatory checks this week has not left any wriggle room that I can see. To me, it looks like a U.K.-wide backstop or no deal," said Richard Bullick, a former adviser to Foster and her predecessor, Peter Robinson. "That is unless the prime minister does a huge U-turn and seeks to cut a deal without the DUP, that would likely end the confidence and supply agreement."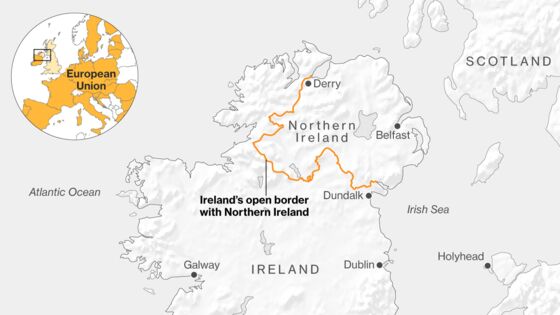 Without the DUP's 10 lawmakers in London, May does not have a working majority to pass legislation, and Foster is flexing the party's muscles.
"We cannot have either a customs border down the Irish Sea or a regulatory border because that would make us separate from the rest of the U.K.," said Foster. "It's been very clear all along that has been our one red line."
As tensions rose on Friday, Ireland's Foreign Minister Simon Coveney warned a single party can't "dictate" acceptable solutions, and ruled out giving Northern Ireland's assembly, which is suspended, the final say on the deal.
Some believe Foster will move eventually, possibly comforted by a pledge from May that the U.K. as a whole would sign up to a common rule book for goods, meaning checks wouldn't be needed. The DUP has been able to extract a price for its support before - it won an extra 1 billion pounds ($1.3 billion) for Northern Ireland for backing May's government last year.
"Theresa May could offer them some assurances that the backstop won't actually ever be needed," said James Smith, an economist at ING in London. "In the end, we think some kind of mutually acceptable fudge can still be found, although it won't be easy."
May has faced down Foster before, in December when she first agreed the idea of a backstop in principle. She may gamble that the DUP will blink again. If the DUP brings down the government, it risks bringing Jeremy Corbyn's Labour Party to power, something that most observers consider unthinkable because of Corbyn's historical sympathy for Irish republicans.
But Bullick says that theory shouldn't be taken for granted.
"Some push the notion that the DUP fears an election but, under the Fixed Term Parliament Act it more likely that there would be a new prime minister than an new election," said Bullick. "Also, while the party might not like Jeremy Corbyn as PM, some unionists would argue that given Labour is looking at an all-U.K. solution, it could yet be a better option from a constitutional point of view."
Ian Paisley, an evangelical preacher, founded the DUP in the 1970s to oppose power-sharing with Irish nationalists in Northern Ireland. In the mid-1980s, Paisley led massive "Ulster Says No" rallies in Belfast, when at least 100,000 turned out to protest what they saw as a threat to the union. The party also walked out of the negotiations that eventually led to the Good Friday Agreement, the accord cementing the peace process after decades of sectarian conflict.
Because it's a party firmed based in identity politics, on defending the region's place in the U.K., that might make the DUP less open to accepting a compromise in return for more cash for the region.
Take Northern Ireland's power-sharing assembly, for example. It remains suspended after Sinn Fein brought it down in 2017 as the DUP refused to cave in to calls for Foster to step aside until an investigation into her role in a costly renewable energy initiative was complete.
"Look what's going on in Stormont at the moment," said Bullick. "No one wants no deal, but there's a danger of it happening by accident."