Fossil Soars After Revenue Beats Forecast on China Strength
(Bloomberg) -- Fossil Group Inc. shares surged after quarterly revenue beat the watchmaker's forecasts by a wide margin, thanks in part to strong sales in China.
Revenue in the third quarter fell 19% to $435 million, Fossil said in a statement. The company had projected a decline of 35% to 45% in the period. The stock gained as much as 38% Thursday, its biggest gain since June 8.
"We outperformed our topline expectations in the third quarter, reflecting ongoing momentum in our digital channels and strong growth in mainland China, as well as trend improvement in the wholesale channel globally," Chief Executive Officer Kosta Kartsotis said in the statement.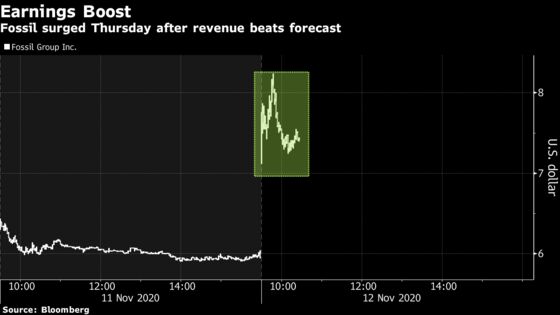 Earnings per share were 31 cents, an improvement from a loss of 51 cents per share in the same period a year ago. Gross margin improved to 52.8%, up 120 basis points year-over-year. Fossil also said it's on track to achieve $100 million in cost savings in 2020.