Republicans Rake in Campaign Cash in August: Campaign Update
(Bloomberg) -- The Republican National Committee raised $23.5 million in August and ended the month with $53.8 million cash on hand as it continues to stockpile money for the 2020 election.
It was the third consecutive month that the RNC raised more than $20 million, and the biggest August total in a non-election year for the party. The Democratic National Committee has yet to crack $10 million in receipts in 2019. Both parties will report their numbers officially to the Federal Election Commission on Friday. Fox News first reported the numbers Tuesday.
In addition to stockpiling cash, the RNC is developing its ground game and trying to expand the 2020 election map to New Mexico and other states, according to a party official not authorized to speak on its behalf. President Donald Trump held a rally in Albuquerque on Tuesday in an effort to drum up support in the state that was carried by George W. Bush in his 2004 re-election campaign, but has otherwise voted for Democratic presidential candidates since 1992.
So far, the RNC, Trump and two joint fundraising committees that support them have raised $212 million in 2019. Trump and the 20 Democrats vying to replace him next year report their fundraising totals on Oct. 15.
Sanford Says GOP May Face 'Extinction' (2:18 p.m.)
Republican presidential candidate Mark Sanford said his party is headed for "extinction" if it doesn't focus on cutting spending, supporting free trade and promoting civility in politics.
Sanford, one of President Donald Trump's three primary challengers, argued that the GOP is losing support from younger voters, working women and stay-at-home moms.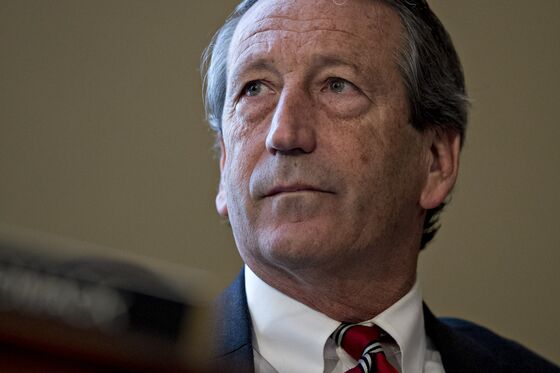 "I think we're looking at the virtual extinction of the Republican Party if we stay on the path we're on," he said in an interview with Bloomberg Radio.
The former representative, who lost a Republican House primary in 2018 after Trump targeted him, noted that a Democrat ended up winning that seat in November.
He criticized the South Carolina Republican Party for canceling its 2020 presidential primary, arguing that wouldn't be necessary if Trump was as strong in the polls as he claims to be.
"Right now, Democrats are having a vigorous debate on what it means to be a Democrat, where the party should go from here. That's healthy. It allows people to participate," he said. "Why we wouldn't want to have a concurrent debate on the Republican side on what it means to be a Republican, I don't understand." -- Ryan Teague Beckwith
Booker Unveils Labor Plan to Help Gig Workers (12:33 p.m.)
Cory Booker unveiled a labor plan that would abolish "right-to-work" laws, make more gig workers employees rather than independent contractors, and establish "sectoral bargaining" between workers and multiple companies in non-union industries.
The presidential candidate's proposal would raise the minimum wage to $15, including for tipped workers and disabled workers who under existing law can legally be paid less than the current $7.25 rate. Labor protections would be extended to farm workers and domestic workers who are currently excluded. Workplace forced arbitration clauses would be banned, and noncompete and no-poaching pacts would be curbed for low-wage workers.
Booker, the former mayor of Newark, has been criticized by union leaders in the past over his advocacy for "school choice." His plan is the latest offering from candidates eager to court labor, a key Democratic constituency, with proposals that go beyond what's been debated in past election cycles.
The New Jersey senator's proposal includes a "jobs guarantee" bill he introduced last year that would fund 15 local governments to try offering a job to every local resident that wants one. He also wants to pass legislation including the Workplace Democracy Act -- introduced last year by fellow presidential candidate Bernie Sanders and co-sponsored by Booker and other candidates like Elizabeth Warren and Kamala Harris – that would expand the definition of employee and would require companies to recognize unions if the majority of workers sign cards.
"I learned the power of collective action from my grandfather who was an assembly line worker and UAW union rep in Detroit," Booker said in an emailed statement. "He showed me how, when workers stick together, injustices can be corrected and real progress can be made." -- Josh Eidelson
Sanders's Plan Promises Housing 'For All' (11:39 a.m.)
After health care, add housing to the list of "rights" Bernie Sanders would guarantee "for all."
The presidential candidate said his "Housing for All" plan released Wednesday would ensure safe housing for every American regardless of income through a $2.5 trillion investment to build nearly 10 million homes in the next decade.
The plan would also end "the mass sale of mortgages to Wall Street vulture funds" and "regulate the practices of large rental housing investors and owners."
In addition, it mandates that $410 billion of the $2.5 trillion investment be used to fully fund rental assistance programs and cap rent increases nationwide at no more than 3% or 1.5 times the Consumer Price Index, depending on which number is higher. Sanders's plan would be financed through a wealth tax on the top one-tenth of 1% of taxpayers. -- Emma Kinery
Biden, Warren Neck-and-Neck in Iowa Poll (10:40 a.m.)
Joe Biden has regained a slight lead over Elizabeth Warren in Iowa, although the two are still within a statistical tie in the first caucus state, according to a new poll from Focus on Rural America.
Biden is at 25% in the poll, ahead of Warren's 23% but within the 4.4 percentage point margin of error. Bernie Sanders is in fourth place, at 9%.
Candidates from the Midwest did particularly well: Pete Buttigieg of Indiana is in third place, at 12%, and Amy Klobuchar of Minnesota is in fifth place with 8%.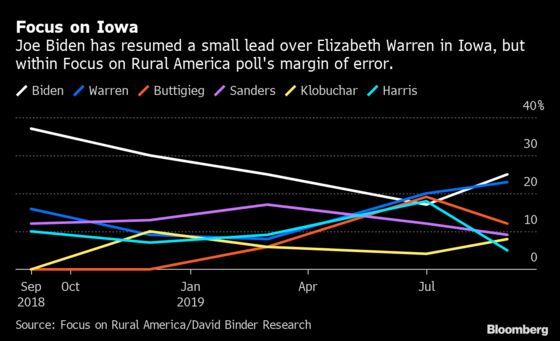 Focus on Rural America is a rural issues advocacy group, and its pollster is David Binder, who was Barack Obama's pollster in 2008 and 2012 and advised Kamala Harris in her 2016 Senate campaign in California. Harris is at 5% in the Iowa poll, down from the 18% support she had in July.
At the other end of the field, most Iowa caucus-goers have ruled out Julian Castro and Andrew Yang. For Castro, 18% said they ruled out the former Housing secretary based on his debate performance last week, when he questioned the 76-year-old Biden's memory. -- Gregory Korte
Trump Attacks O'Rourke's 'Hell Yes' on Guns (8:52 a.m.)
Beto O'Rourke's unabashed "hell, yes" about a mandatory assault weapons buyback has made it more difficult for Democrats to reach a deal on gun safety, according to President Donald Trump.
Trump tweeted Wednesday that O'Rourke's comment during last week's Democratic debate "made it much harder to make a deal. Convinced many that Dems just want to take your guns away. Will continue forward!"
Few Democrats in Congress have publicly proposed legislation as ambitious as O'Rourke's buyback although some other candidates for the party's presidential nod are supportive of such a move.
Trump has been backpedaling from a statement in August after 31 people were killed in mass shootings in one weekend that he had "an appetite" for bolstering background checks. The president hasn't endorsed Democratic proposals with broader support, such as a House-passed bill that would expand background checks.
O'Rourke received praise from his rivals for how he responded to the shooting last month in his hometown of El Paso, Texas, that killed 22 people and wounded 24. His proposal to enforce a mandatory gun buyback program for military-style automatic weapons received loud cheers from the audience during the Democratic presidential debate in Houston earlier this month. -- Kasia Klimasinska
Fossil-Fuel Investment May Trip Up Steyer (5:31 a.m.)
Billionaire Tom Steyer's small investment in a Colorado-based oil company could create big headaches for him.
In his Federal Election Commission financial disclosure available Tuesday, the presidential candidate listed a stake worth between $1,000 and $15,000 in Direct Petroleum Exploration Inc., a company involved in oil production.
That's not even a rounding error for Steyer whose net worth Bloomberg estimates at $3.1 billion, but it could prove troublesome because the former hedge fund manager has put climate change at the center of his campaign and is among the 18 candidates who have sworn off contributions from fossil-fuel executives.
At a CNN climate forum on Sept. 4, front-runner Joe Biden faced pointed questions about a fundraiser for him co-hosted by a former energy executive. Biden responded that the executive, Western LNG co-founder Andrew Goldman, was no longer active in the company or on the board. The former vice president added that he was serious about not taking money from fossil fuel executives or political action committees. Still, environmental groups that promoted the "No Fossil Fuel Money Pledge" accused him of violating its spirit.
Steyer, who has qualified for the Oct. 15 debate, is scheduled to appear Friday at a climate forum this week. -- Bill Allison
MSNBC will host a seven-hour climate change forum on Thursday and Friday. The event will feature 11 Democratic candidates: Michael Bennet, Cory Booker, Steve Bullock, Pete Buttigieg, Julian Castro, John Delaney, Tim Ryan, Bernie Sanders, Marianne Williamson, Andrew Yang and Steyer. Republican primary challenger Bill Weld will also participate.
The United Food and Commercial Workers union will host forums in Iowa and Michigan with Democratic presidential candidates on Sept. 29 and Oct. 13. Bennet, Biden, Booker, Buttigieg, Kamala Harris, Sanders and Elizabeth Warren have confirmed that they will attend.