Forward Premiums Crash After India's RBI Eases Exposure Limits
(Bloomberg) -- The Reserve Bank of India's move allowing lenders to deploy more dollars abroad led to a sharp drop in rupee forward premiums from a four-year high, making hedging cheaper.
The dollar-rupee annualized forward premium rates crashed across the curve, after the RBI on late Wednesday lifted the ceilings on local banks' exposures to other countries and central banks. The rupee also dropped.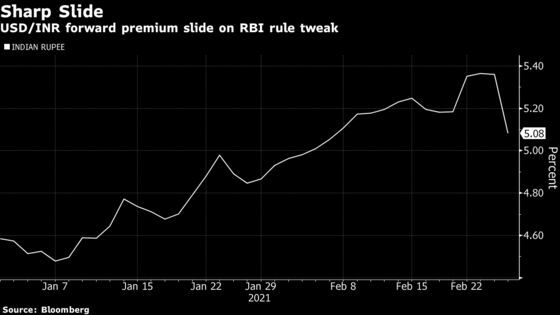 Banks have limits on dollars they can park in their nostro accounts overseas. The rules required them to convert the excess greenbacks into rupees, which led to lenders paying in forwards, pushing up the price of future dollars in the domestic market. Now, they can invest these dollars in U.S. Treasury bonds, preventing a glut of dollars in the domestic market.
"There was a glut of dollars in the system and banks were not able to push the dollars out," said Abhishek Goenka, chief executive at India Forex Advisors Pvt. Now, with the eased rules, "the lower forward points would also reduce the downside pressure on dollar/rupee as shorting the pair would become relatively less attractive."
The six-month annualized forward premium was down 32 basis points to 5.2497%, while the 1-year was down 28 basis points to 5.0792% on Thursday. The rupee was down 0.1% to 72.4263 to a dollar in spot trading.
The RBI's own currency intervention strategy where it sterilized its spot dollar purchases in the forwards market had also contributed to the rise in premiums, traders say. The RBI's outstanding forwards book grew to $28.3 billion as of November from a negative $4.9 billion in the fiscal year 2019-20, highlighting the extent of its operations in the market.
The central bank is watching the rise in forward premiums and will act when necessary, RBI Governor Shaktikanta Das had said earlier this month. The drop in premiums will reduce hedging costs for overseas investors, domestic issuers in foreign currencies and importers.