Fortunes May Be About to Turn for Asia Junk Bonds After Sell-Off
(Bloomberg) -- Junk bonds sold by Asian companies lost the most in three and a half years last week, but may be about to make a comeback, according to Goldman Sachs Group Inc.
"Concerns of a Chinese credit crunch are misplaced" and monetary policy in China is likely to remain accommodative to ensure adequate credit supply, Goldman Sachs said in a report June 29. Non-investment grade notes in Asia may return more than 3 percent in the second half of the year, the bank said.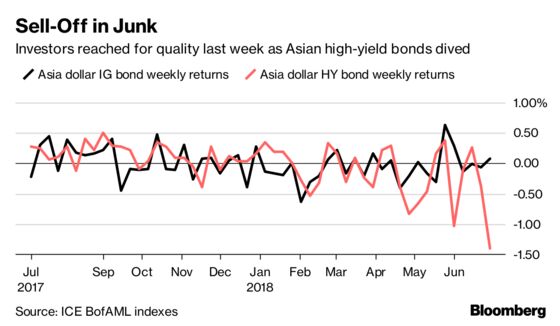 The sell-off in Asian junk bonds intensified after Chinese authorities restricted the use of offshore bond proceeds for refinancing by developers, which account for a large portion of the high-yield securities. Losses for the notes deepened to 4.6 percent in the first half, compared with a 1.8 percent decline for Asian investment-grade corporate notes, according to ICE BofAML indexes.
Fitch Ratings Ltd. said Monday it didn't expect the new rules to add significantly to funding risks for Chinese developers, though weaker B rated issuers remain vulnerable to tightening liquidity.
"Significant value has emerged in better quality high-yield credits, much of which have limited short-term financing pressure," said Dhiraj Bajaj, a portfolio manager at Lombard Odier (Singapore) Ltd. "Markets always reopen to fund decent firms and before we know it, investors will be fighting over new-issue allocations."
Goldman Sachs is forecasting returns of 3.2 percent for the region's junk notes, and 0.9 percent for investment-grade counterparts in the second half, using the Asian Broad Bond Index. The assumptions are based on the 10-year U.S. Treasury yield reaching 3.25 percent by year-end and high-yield default rates declining.
Analysts including Kenneth Ho said that among double B rated bonds, they prefer Chinese property, and Indonesian issuers, though they caution it's still too early to buy the lowest-rated credits. Unless trade tensions escalate, the economic effects of proposed tariffs are likely to remain modest, they add.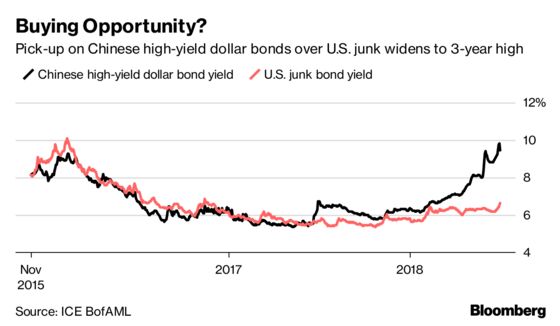 The average yield on Chinese junk dollar bonds rose to 9.8 percent last week, the highest since 2015, before falling back to 9.46 percent on Monday, an ICE BofAML index shows. That offers global investors a pick-up of about 3 percentage points over U.S. high-yield notes, the data show.
"The valuations we are seeing in China high yield are the most attractive we have seen for several years, especially relative to U.S. high yield," said Paul Lukaszewski, head of Asian corporate debt and emerging market credit research at Aberdeen Standard Investments Ltd. in Singapore. "We are selectively adding at these levels."