Finnish Utility Fortum to Gain Majority Stake in Germany's Uniper 
(Bloomberg) -- Fortum Oyj agreed to buy stakes in Uniper SE from two activist investors in a 2.3 billion-euro ($2.5 billion) deal that will give it majority ownership and end the longest takeover saga in the European utilities industry.
The Finnish utility pursued the German power generator for more than two years in what Uniper's management board saw as a hostile bid for the company spun off from EON SE in 2016. Fortum always maintained it was friendly and that it was seeking a strategic relationship, but talks between the companies ultimately came to nothing. Through the deals with Elliott Management Corp. and Knight Vinke Asset Management LLC., Fortum can now realize its plan.
"A bright spot in this agreement is that the activist investors are out of the picture and the Fortum/Uniper deadlock may finally have come to an end, allowing both businesses to return to focusing on running their operations," Sanford C. Bernstein analysts including Deepa Venkateswaran, said in a note.
In a sign that Fortum's management wants to return to basics and create a good working relationship with Uniper and its employees, it ruled out imposing a domination or profit and loss transfer agreement, a pact that gives an acquirer wide-ranging control over a target under German law, as well as a squeeze-out for at least two years. It has no obligation to buy more shares or carry out a tender offer, Chief Executive Officer Pekka Lundmark said on a call with analysts on Tuesday.
Fortum plans to buy 20.5% in Uniper from the activists, according to a statement. Closing is subject to regulatory approvals in Russia and the U.S., which Fortum expects to receive by the end of the first quarter next year.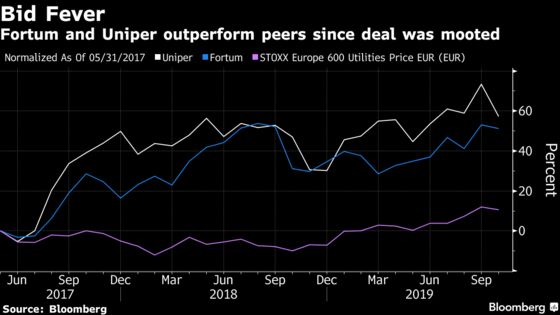 Uniper dropped as much as 10% in Frankfurt, the most since it's started trading in September 2016. Fortum rose 1% in Helsinki.
One stumbling block to Fortum previously getting a majority stake has been Uniper's stake in a Russian water treatment plant. It prevented state-controlled Fortum from boosting its stake due to Russian rules on other countries owning key infrastructure assets.
"Over the past days, weeks and months we've had extensive discussions with Russian authorities on this 50% limitation that they imposed on us," Lundmark said on the call. "Those discussions have led us to believe there is a solution available," he said, declining to provide further details.
Uniper is one of Europe's biggest power utilities, with generation assets spanning from Swedish nuclear to coal and gas plants in Germany and the U.K. It was born out of EON's decision to spin off mainly its fossil-fuel operations, and was deemed a "bad bank" by some analysts.
While Fortum has always said it's been content with the 49.9% stake it has held, deadlock over strategy has frustrated investors in both companies. The frosty relationship between Uniper's management and Lundmark and his executives lead to several resignations among senior management at the German company, including the departures this year of CEO Klaus Schaefer and his finance chief Christoper Delbrueck.
However, after a new management team was appointed, led by CEO Andreas Schierenbeck, those talks instead turned into "very constructive discussions," Lundmark said.
Uniper's labor unions have repeatedly sought to block Fortum from acquiring additional shares. The company's U.K. based workers union Prospect last month called on Fortum not to pursue a hostile takeover of Uniper, noting such a deal would put the company's credit rating at risk.
Still, Fortum said it plans to exert without delay a greater influence on Uniper by seeking immediate representation on Uniper's supervisory board commensurate with its ownership.
The transaction will be financed with existing cash resources and committed credit facilities underwritten by Barclays Plc.