Fortress-Backed Rail Company Brightline Gets an Ally in California's Treasurer
(Bloomberg) -- California Treasurer Fiona Ma's support for a costly private rail project to shuttle gamblers back-and-forth from the outskirts of Los Angeles to Las Vegas is no secret.
When housing nonprofits argued in late 2019 that California's deepening housing crisis deserved all of the state's allotment of subsidized financing, Ma rejected that idea. Some affordable housing developers got shut out, and the rail project won its entire request, about 15% of California's limited annual allocation of the funding resource.
What's less well known is the influence that the train's developer Brightline Holdings -- a company controlled by the $50 billion private equity giant Fortress Investment Group -- had on the process. 
Documents released by the California treasurer's office under a public-records request reveal how closely Brightline has worked with Ma, a Democrat who has said she wants to run for governor, and her employees to win coveted financing for the speculative venture. Ma oversees the committee charged with allocating the funding, the bulk of which goes to housing, and her staff vets requests from developers vying for the inexpensive debt. That staff also makes recommendations to the board, which is chaired by Ma and typically votes in line with those recommendations.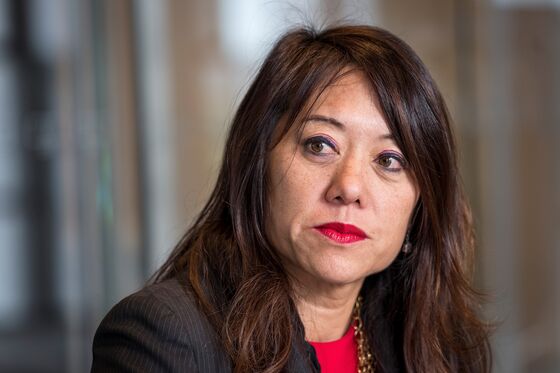 The documents show that Ma's executive officers and employees told Brightline representatives what to focus on in their application and worked to avoid political and media pushback on the project's use of financing. They contacted federal rail officials directly on the project's behalf and held strategy sessions with the company before board meetings. 
Applications from housing developers have been rejected for typos and other minor issues. But Brightline's first application won conditional board approval even though it didn't include an economic development plan showing how committing so much capacity to the project would achieve the state's goals in housing, jobs and workforce development.
In one instance, Ma wrote a letter to U.S. congressional members in June praising Brightline's rail line in Florida and lobbying for changes in train financing that would ultimately benefit the company and, more broadly, the rail industry. Documents show that Ben Porritt, a Brightline senior vice president, edited the correspondence, providing detailed instructions on the letter's content and distribution down to the time it should be sent and the subject line.
Ma said Brightline's involvement was an ordinary part of the process. 
"It is common for us to interact with former, current, and potential applicants," she said in a statement in response to detailed questions. "Such interactions have no impact on our business decisions."
However, in light of Ma's discretion over decisions that affect the company, three ethics experts said Brightline's involvement with her office and her support for the rail project raise the appearance of a conflict of interest.
"I'm sure there are important messages that the treasurer would want incorporated," said John Pelissero, a senior scholar at the Markkula Center for Applied Ethics at Santa Clara University and a researcher and educator on ethics in government. "But those shouldn't be crafted in concert with, or at the direction of, the beneficiary or potential beneficiary of the funds."
Close relationships between lobbyists and elected officials are legal and not necessarily uncommon. But in this case, they serve to explain how competing priorities aren't helping California's inertia on its housing crisis. 
The state has five of the 10 most expensive residential markets in the U.S., but has failed to reverse the trends in homelessness and housing affordability. This year, Ma's committee reserved $200 million of debt for the rail project in anticipation that Brightline would seek financing again, even as the fallout from the coronavirus pandemic exacerbated the state's housing problems. While Brightline's economic development plan listed housing as a benefit of the train project, it didn't establish commitments on such construction, and neither did the company's bond marketing documents.
The federal infrastructure bill signed by President Joe Biden last month addressed some of what Ma's letter to Congress sought. The amount of tax-free "private activity bonds" that railroads can tap was raised to $30 billion nationally. It also included a grant to cover credit risk premiums for a federal rail loan program, as well as another to evaluate partnerships with the private sector. This will benefit companies such as Brightline, whose passenger rail in Florida is expanding.
At the time of the letter's release, Brightline had submitted an application for California's allotment of private activity bonds, after having to return its previous award because it failed to entice investors for its September 2020 debt offering. The company eventually pulled the application with the intention of reapplying in 2022 while it worked to establish a station closer to Los Angeles, which would make the project more palatable to potential investors.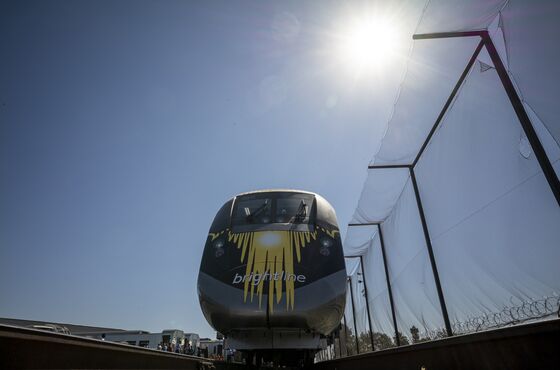 Should Brightline again seek the state's private activity bonds, it needs approval from the California Debt Limit Allocation Committee, the little-known agency headed by Ma. The decision ultimately rests with the voting members of the committee's board: Ma, a representative of the governor and a representative of the state controller. They tend to vote unanimously on decisions since the committee is geared toward meeting legislative priorities. The representatives of the governor and controller had agreed with Ma that the project was good for economic development.
The group is an important gatekeeper to the state's annual allotment of private activity bonds, which are meant to assist private ventures for the public interest. The bulk of the debt usually goes to affordable housing developers, who use it to secure tax credits that draw federal subsidies for every dollar that's borrowed. In 2021, $600 million of debt was reserved for non-housing uses out of the $4.3 billion allocation.
Since late 2019, demand for the bonds has outstripped what the state can give out. Next year, the committee anticipates requests totaling $13 billion, with $4 billion alone coming from the category that the train project falls under. The expected annual allotment is around $4 billion.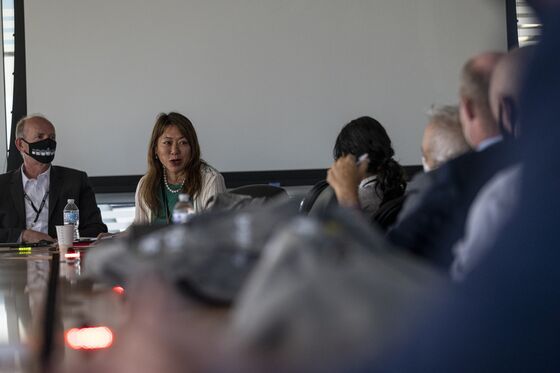 In her letter to Congress, Ma also criticized California's voter-approved high-speed rail project, which is mired in delays and cost overruns, and urged members not to spread federal funds "thinly." Instead, she recommended easing restrictions on federal grants to benefit public-private partnerships, eliminating terms on federal rail financing and increasing the amount of federal private activity bonds.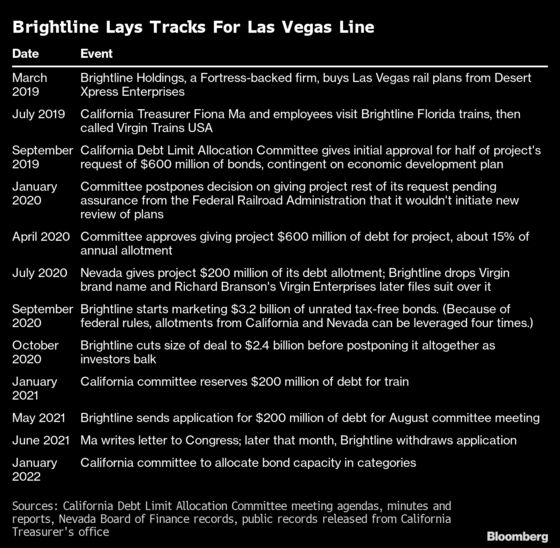 For his part, Brightline's Porritt said there was nothing unusual about his work with Ma.
"We regularly engage and educate state, federal and local officials on various policy issues and the economic and environmental benefits that Brightline West will bring to California as well as Nevada," he said in a statement, adding that many politicians and groups advocated for the increase in federal private activity bonds.
'Strategic and Thoughtful'
It's unclear how the expansion of federal private activity bonds, as well as the availability of new rail grants under the federal bill, would affect the company's need to tap the allotment provided to California. Porritt didn't provide information about financing plans.
In 2020, the debt committee gave Brightline approval to sell the tax-free bonds. But investors balked at the speculative, unrated debt for the 169-mile (272-kilometer) rail plan that originally had its California terminus in a desert town 90 miles from downtown Los Angeles. Since then, the company moved the $8 billion project closer to Los Angeles by extending the prospective line to Rancho Cucamonga, which is located along an existing commuter rail called Metrolink. 
In emails ahead of a key January 2020 board meeting, Ma's employees coached representatives from the train developer on aspects of the project that they needed to emphasize in an economic development plan to win support.
"There are strong political headwinds building to compel STO to allocate all of our 2020 bond volume cap to multifamily housing," Larry Flood, Ma's then-director of the debt committee, wrote, referring to the state treasurer's office. The rail developer "will need to show that giving allocation to the train not only creates as much or more housing, but in addition it has all of the other economic and environmental benefits."
Earlier, in 2019, Ma's then-Deputy Treasurer Jovan Agee asked a staffer to schedule a meeting with company representatives to work with them "as a thought partner on helping them think through their economic development plan so we can figure out how to best assist them." Flood didn't respond to requests for comment, while Agee declined to comment.
"We could receive a lot of negative push back from the Governor's office and the media," Agee wrote in a subsequent email, "if we aren't strategic and thoughtful about our approach."