Former SPAC Darling Fisker Nosedives After Goldman Says Sell
(Bloomberg) -- Fisker Inc.'s slide is accelerating after a Goldman Sachs rating downgrade to sell, with the decline in the electric vehicle company's shares now extending to more than half since they hit a record high in March.
Competition from more traditional automakers including General Motors Co. and Ford Motor Co. who want a piece of the burgeoning market for battery-powered cars and Fisker's late entry to the market were behind analyst Mark Delaney's recommendation late Wednesday.
Fisker, Nikola Corp. and Lordstown Motors Corp. are just three of many startups yet to build a single vehicle but chasing the stock rise experienced by market incumbent Tesla Inc.
All three EV startups went public via a special purpose acquisition company - or SPAC - which became popular with the industry last year as it gave quick access to capital and allowed pre-revenue automakers to make eye-catching financial projections for their would-be products, propelling little known names to the public markets.
Fisker's business model is based on outsourcing vehicle manufacturing. Production on its debut EV, a sport-utility vehicle called the Ocean, is not due until late 2022 and will be built by Magna International Inc.
"There will be an increasingly competitive landscape in EVs as several of the traditional OEMs (original equipment manufacturers) have recently announced plans to pivot more quickly toward EVs, early movers such as Tesla continue to scale, and new entrants are looking to come to market," Delaney said.
Another Fisker-branded vehicle, this one with Apple Inc. supplier Foxconn Technology Group won't enter the market until about late 2023 when "the competitive landscape could be even more challenging," he wrote in a research note.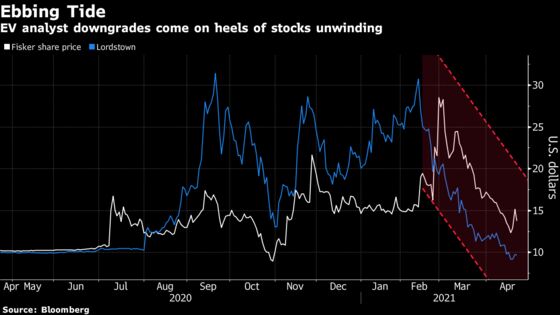 Fisker fell as much as 13% on Thursday before closing down 9% at $13.78. The shares had almost doubled in value since the start of the year after climbing to an intraday high as $31.96 on March 2.
Delaney cut his rating from neutral and slashed his price target to a Wall Street low of $10 from $15. At the same time the analyst also dropped his buy rating on Lordstown to neutral, and cut his price target by more than half to $10 -- about where the stock is currently trading -- from $21. That might be a little late for some Lordstown investors as the stock is down nearly 70% from its February highs.
For Fisker, Wall Street optimism still outnumbers more cautious calls with six analysts rating it a buy, three a hold and only Goldman rating the stock a sell. Fisker's biggest bull, Morgan Stanley's Adam Jonas, named the Los Angeles-based company his favorite EV startup and earlier this week said the selloff was driven by a "retrenchment in sentiment" across the the SPAC universe. He expects the stock to reach $40 over the next 12 months. The average price target for the stock is $26, according to estimates compiled by Bloomberg.
While some of the heat around EV SPACs has faded, one hedge fund manager said he'd use Thursday's drop to snap up Fisker's shares. Bruce Cox, the founder of the Harrington Alpha Fund, said he has a decent position in Fisker and he plans to use the slide to add to it ahead of the company's earnings report in the coming weeks.
Fisker declined to comment for this story. The company is the second battery-powered car venture founded by its namesake founder, a longtime auto designer Henrik Fisker, who had a decorated career designing cars at BMW AG and Aston Martin. But his experience actually building and selling EVs has been markedly less successful. His first venture, Fisker Automotive, filed for bankruptcy in 2013 having delivered just around 2,000 units.