Former Covid-Zero Haven Ditches Masks, QR Codes in Stark Pivot
(Bloomberg) -- The biggest state in Australia is eliminating a raft of pandemic restrictions as it nears a 95% vaccination rate, in one of the starkest reversals from the Covid-Zero strategy yet.
From Dec. 15, or once the 95% inoculation target is hit, masks will only be required on public transport, on planes and at airports in New South Wales, ending the need to wear a protective face covering in most indoor settings. Check-ins via QR code, which are currently mandatory in the state at any venue, will only be needed at hospitals, aged-care facilities, pubs, small bars and nightclubs, according to the latest guidelines from the New South Wales government.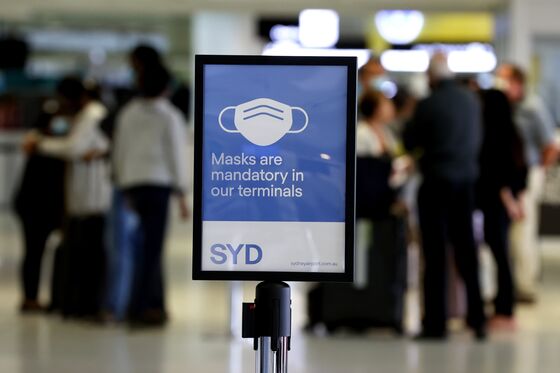 It's a marked turnaround for the state, home to Sydney, given it only last month emerged from a strict 107-day lockdown that saw some parts of the city placed under a curfew, residents unable to travel more than five kilometers (three miles) from home, and schools and many workplaces shut. A change in state leadership has seen the push to normalize accelerated, with New South Wales effectively opening its borders this month, ending one of the strictest border and quarantine regimes in the world. 
The strong vaccine takeup is behind new Premier Dominic Perrottet's confidence, with some 92% of people aged over 16 in New South Wales having received both jabs. 
Australia was one of the vanguards of the Covid Zero approach, which made countries in the Asia-Pacific region the stars of pandemic containment in 2020, with many places -- from Singapore to Taiwan and New Zealand -- wiping out the virus for long stretches. The strategy relies on walling the pathogen out with stringent border curbs and quarantines, and then using testing, contact tracing, and in some cases short, snap lockdowns, to hunt down every case. 
The more transmissible delta variant, however, has proven a huge challenge to the strategy, also known as elimination, with nations one by one abandoning it as they struggled to wipe out cases. China and Hong Kong remain the last holdouts, turning to increasingly extreme measures to persist with the strategy.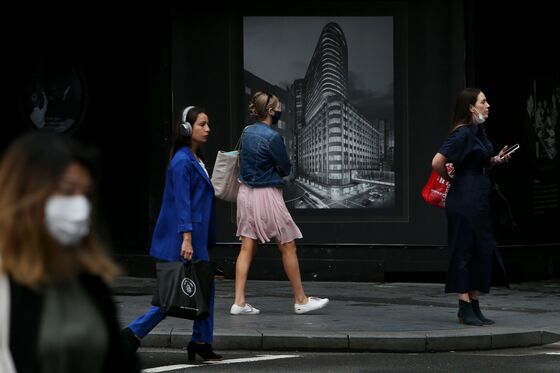 Singapore, one of the most highly vaccinated places in the world, is taking a more cautious approach than New South Wales, focusing on reopening to international travel with the establishment of vaccinated travel lanes, while slowly easing restrictions internally. 
The city state resumed dining-in in August, and just weeks later began battling a new wave of cases, prompting its leaders to pull back and reimpose some virus measures. New Zealand -- which went months earlier this year without a a case before a single delta infection triggered a nationwide lockdown -- this week laid out a blueprint for dismantling its much-criticized quarantine system and reopening its borders, with tourists to be allowed back in from the end of April.
The New South Wales move comes as the approach to Covid diverges in other Australian states. Neighboring Victoria is also opening up -- albeit more cautiously as cases start to tick higher again. To the north, Queensland state is also removing restrictions and opening its borders to domestic tourists, moving away from elimination as cases keep returning. Only Western Australia -- home to most of Australia's vast stores of iron ore -- remains a Covid-Zero holdout, signaling its internal border won't open until sometime next year.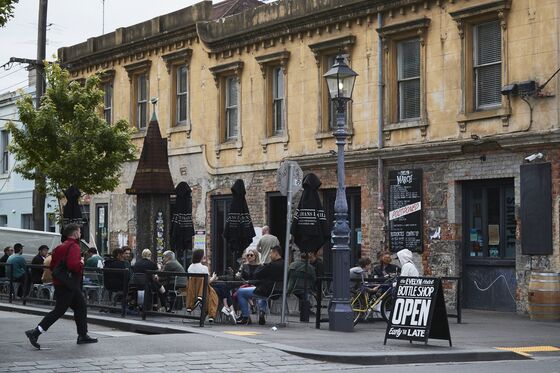 The fast pace of New South Wales' normalization is raising some eyebrows, particularly as the virus flares anew in Europe. Cases in New South Wales are hovering around 180 to 260, but rainy weather and the forthcoming Christmas season raises the risk of an uptick. The Australian Medical Association expressed disappointment with the government's move, the Australian Broadcasting Corp. reported. 
"We would've preferred to see masks indoors remain in place through the busy shopping season, particularly as we see other restrictions ease" AMA state president Danielle McMullen told the ABC. 
Countries in Europe have been deploying vaccine passports for travel and admission into restaurants, bars and cafes for months, but still the region is now seeing a resurgence in cases, particularly among the unvaccinated. 
Ireland -- ranked No. 1 in Bloomberg's Covid Resilience Ranking of where the pandemic is being handled best with the least amount of social and economic disruption -- recently imposed curfews on bars and restaurants and said cinemas and theaters must require proof of vaccination as cases rise. This is despite more than 90% of Irish adults being inoculated.