Former Coal Plant to Become $4.6 Billion Oasis on Lake Ontario
(Bloomberg) -- Move over Google. There's a new urban oasis coming to the shores of Lake Ontario.
A former 177-acre (72-hectare) coal power plant site will be transformed into a mixed-use community in Mississauga, a city west of Toronto that could be worth as much as C$6 billion ($4.6 billion) once complete, according to Fabio Mazzocco, president of Lakeview Community Partners Ltd., a group of developers.
"You have a power plant that's gone," Mazzocco said in a phone interview before unveiling the project's latest design proposal on Wednesday. "A beautiful green community comes and all that waterfront land is now connected."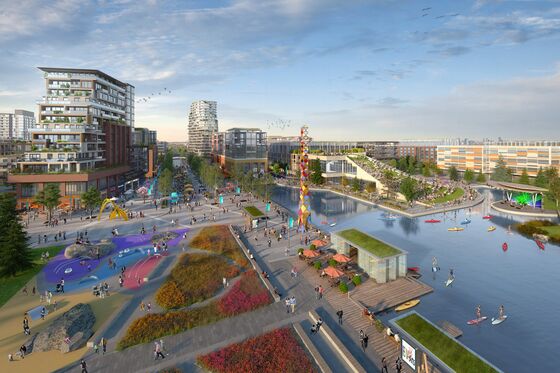 The plan -- which includes one of the longest piers on the lake -- calls for the development of as many as 8,000 housing units for about 17,000 residents, including townhouses, high-rise apartments and some affordable housing, Mazzocco said. The Toronto region has seen home prices and rents soar as a booming economy pulls in a wave of tech and financial-services workers.
In the city's east end, Sidewalk Labs, a unit of Google parent Alphabet Inc. is aiming to develop a digital city while other tech firms such as Uber Technologies Inc., Microsoft Corp. and Shopify Inc. are also filling up office space in the city.
Lakeview, a group of closely held companies, purchased the site from Ontario Power Generation Inc. in March for about C$275 million. It was one of five coal power plants shut by the province to combat climate change. Four of the sites have transitioned to new uses, including a solar farm.
Mazzocco declined to provide a cost estimate for the project at this stage. The company hopes to start building infrastructure in 2020 with the entire construction process expected to extend beyond a decade.
The site will include up to 825,000 square feet for employment and 130,000 square feet for retail. A total of 67 acres will be dedicated back to the city of Mississauga for open waterfront space that includes a campus. A unique feature will be its near 1 kilometer (0.6 mile) pier, Mazzocco said.
Concrete from the foundation of the power plant will be broken up and used to help fill a 64-acre conservation area nearby that's being built separately by provincial and municipal authorities, Mazzocco said.
"What was once something that was polluting, brown and caused smog is now the foundation of something that's going to be a conservation area," Mazzocco said.
Lakeview is a group of Toronto region developers that includes Argo Development Corp., TACC Construction Ltd., Branthaven Homes, Greenpark Group, and CCI Development Group of Companies.