Forget Tech. Home Suppliers See Biggest 5-Day Rout Since February
(Bloomberg) -- While Wall Street gets jittery at tech stocks' biggest loss in a month amid a selloff in Facebook, homebuilding suppliers are quietly falling at a pace unseen since the market's February rout.
The S&P Homebuilding Index fell 0.1 percent on Thursday, widening its five-day plunge to 7.8 percent, the most since February 8. The index is down for a fifth consecutive session, the longest losing streak in more than five months.
This earnings week is turning from bad to worse for home appliance and construction companies. First, Whirlpool Corp. tumbled 15 percent on Tuesday after disappointing second-quarter results. The next day, Owens Corning plunged as much as 14 percent after second-quarter earnings missed estimates. And on Thursday, flooring company Mohawk Industries Inc. lost 16 percent after reporting an EPS miss.
While each company faces specific challenges, all face more general headwinds too -- higher rates and inflation, rising input costs and a burgeoning trade war. Furniture components manufacturer Leggett & Platt Inc., which releases earnings after the market close on Thursday, relies on China, Canada, Europe and Mexico for about 60 percent of its sales. The stock is down for the third day in four, widening its 2018 loss to 6.6 percent.
Simpson Manufacturing Co., which is due to report earnings on Monday, is up for the first time in five sessions as its short interest hovers near this year's high. The maker of wood-to-wood connectors and venting systems relies on overseas sales for about a third of its revenue.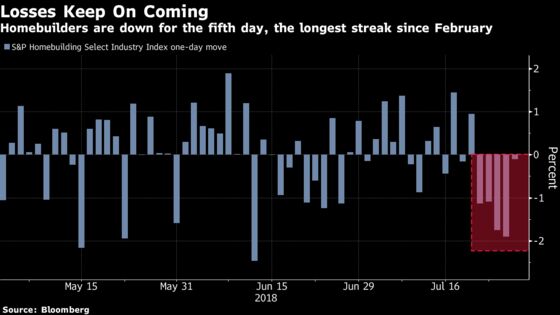 Weak results from bellwethers that have already reported have clouded the outlook for those still to come. Case in point: Owens Corning, which blamed lower storm-related demand this year. That report prompted Sam Darkatsh, an analyst at Raymond James, to cut his third quarter sales estimates for roofing materials distributor Beacon Roofing Supply Inc. Beacon and peer Builders FirstSource Inc. are scheduled to report earnings on August 7, while BMC Stock Holdings Inc. is due on July 30.