Energy Spending Boosts Foreign Direct Investment in Canada
(Bloomberg) -- The highest spending in almost two years by foreign mining and energy companies was the big driver of a recent increase in investment into Canada.
Foreign direct investment, which includes building new production sites or buying stakes in companies, rose to C$10.8 billion ($8.1 billion) in the third quarter, from C$7.7 billion in the prior period, Statistics Canada said Thursday from Ottawa. Net investment in mining and energy totaled C$3.8 billion, after a net divestment of C$1.3 billion in the second quarter.
Canada's ability to attract foreign capital has become a contentious political issue. Prime Minister Justin Trudeau devoted most of the new spending in this month's fiscal update to targeted tax breaks for companies buying new equipment, a response to corporate pressure to match major U.S. tax cuts. The Bank of Canada is also counting on investment spending to sustain economic growth with indebted consumers being pinched by rising interest rates.
"Canada has some natural advantages and we will see more investment," Dennis Darby, president of the Canadian Manufacturers and Exporters, told BNN Bloomberg television.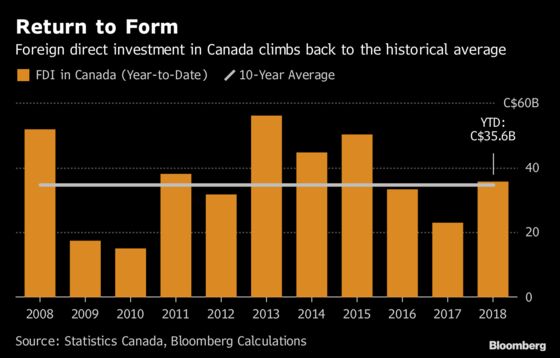 Over the first three quarters of this year, direct investment totaled C$35.6 billion, the highest since 2015.
The energy gains are a rare bright spot after several difficult years for western Canadian oil producers, who had cut spending and fired workers as prices tumbled. Pipeline bottlenecks have sent the discount for Alberta heavy crude from the U.S. benchmark soaring in recent months.
The decline in local oil prices will limit further investment gains in that industry, while Canada's tax cuts may encourage other companies to step up, said Priscilla Thiagamoorthy, an economic analyst at BMO Capital Markets. "There are competitive challenges that have remained for some time now and with the fiscal update it could help a little bit,'' she said by phone from Toronto.
Small business owners are also more optimistic about investment. Some 56 percent of members surveyed this month plan to spend on new capital projects, the highest reading since February, the Canadian Federation of Independent Business said Thursday.
One downside in the new Statistics Canada figures was manufacturing investment, which slowed to C$1.8 billion in the third quarter from C$3.8 billion previously.
The report covers the period when U.S. President Donald Trump threatened to kick Canada out of the North American Free Trade Agreement and impose a tariff on automobiles.