Ford Takes Aim at Import Crowd With Small Pickup Under $20,000
(Bloomberg) -- Ford Motor Co. is betting that by going small it can score big with the import crowd, pricing its new Maverick compact pickup truck at less than $20,000 and powering it with a standard gas-electric hybrid propulsion system.

With the average price of a new car now topping $40,000, Ford Chief Executive Officer Jim Farley has long said he wanted vehicles that appeal to younger, entry-level buyers who have been priced out of the market. As part of that effort, this fall Ford will start selling the small, four-door truck.
The Maverick seats five, has an eight-inch touch screen in the dash and gets 40-miles to the gallon in city driving. It will be one of the tiniest trucks in the U.S. At just under 200-inches long -- about 16.6-feet -- the Maverick is only six-inches longer than a Toyota Camry and more than four-feet shorter than Ford's F-250 Super Duty truck.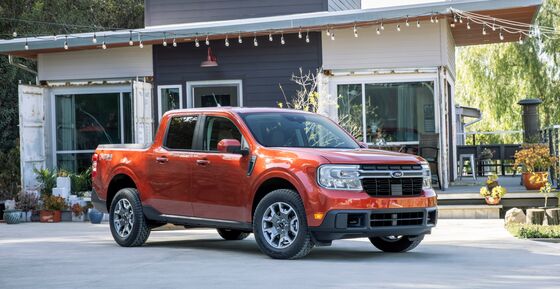 The Maverick's starting price of $19,995 is about $1,250 below a base Honda Civic compact car. It's even cheaper than a typical used car, which hit a record of $22,568 in May, according to researcher Cox Automotive.

"This gives a little bit of choice to the buyer that didn't have much in that price range, unless you're looking at a used vehicle, and I'm not sure what you can find used for under 20 grand these days," said Jeff Schuster, senior vice president of forecasting at researcher LMC Automotive. "I could certainly see it doing well in import-dominated areas like California as kind of a beach vehicle."
Unlike Ford's money-losing entry-level offerings of the past, the company says Maverick will still manage to make a buck thanks to sharing many components -- including that hybrid drivetrain -- with its mechanical siblings in the lineup; the Escape and Bronco Sport compact sport-utility vehicles. Another contributing factor: Ford is making the Maverick at a factory in Mexico, where workers' wages are a fraction of their U.S. counterparts.

"We're certainly not doing this to lose money," Hau Thai-Tang, Ford's chief product platform and operations officer, said in an interview. The Maverick, which fully loaded stickers around $35,000, is part of Ford's plan to achieve a 10% North American profit margin by 2023, he said.
LMC forecasts that Ford will sell 40,000 to 50,000 Maverick models a year -- a small fraction of the almost 900,000 F-Series full-size trucks it sells annually. But the pint-sized pickup could still have an outsized impact on Ford's future if it succeeds in diverting young buyers from Honda Civics and Toyota Corollas.

That is Ford's intention, according to Thai-Tang. But instead of trying to beat the Japanese at their superior sedan game -- which Ford has already raised the white flag on by exiting the U.S. sedan market -- the maker of the top-selling truck in America is playing to its strengths.

"We're hoping this brings a lot of new customers into the Ford showroom," Thai-Tang said. "We want to attract younger buyers and people who didn't consider our products in the past."
The Maverick is entering a hot segment. Pickups have become kings of the road, but with princely prices. The average transaction price of a full-size pickup hit $55,664 in May, almost three times the price of a base Maverick. Even midsize pickups, like Ford's Ranger, were selling at $39,249 on average, according to Cox.
Once the domain of hard hats and ranchers, trucks have grown popular among adventure seekers. Toyota Motor Corp.'s Tacoma has dominated the smaller pickup segment for years. But the Taco, as its legion of loyalists call it, and rivals like the revived Ranger have grown in size and price over the years, exceeding the grasp of the budget-minded buyers that were once their main target.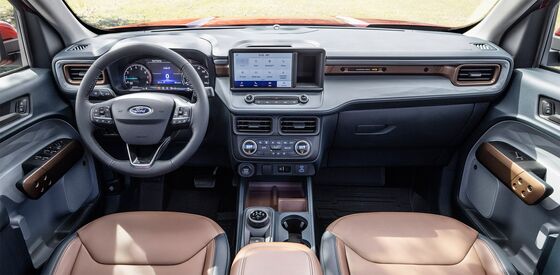 A recent Cox consumer survey on the potential of reviving the compact-pickup segment in the U.S. found that prospective buyers covet cargo space the most, followed by fuel efficiency and price. The survey found only 31% of consumers were aware that new compact pickups were debuting in the U.S. and just 20% would consider buying one.
"The compact-truck segment has its work cut out as it will be competing against top volume segments including SUVs and larger pickups," the Cox analysis said.
The Maverick's maximum payload of 1,500-pounds -- which Ford says equals 37 bags of mulch -- is less than half of what can be loaded into the back of an F-150.

Ford contends this is a "white space" vehicle aimed at young, urban dwellers who will like its tight turning radius and ease of maneuverability into narrow parking spaces.
Its biggest attribute, though, may be its rock-bottom price. Thai-Tang said the Maverick will start 25% below its only direct competitor, the Hyundai Santa Cruz compact pickup, debuting this summer with an expected starting price around $25,000.

The void for diminutive pickups could fill in quickly if the Maverick and Santa Cruz take off, LMC's Schuster said.
"If it does even remotely well, I would be shocked if GM doesn't look at doing something like this."