VW-Ford Deal on Self-Driving No Sure Thing: Detroit Show Update
(Bloomberg) -- The chrome and steel is in place, the buffing and polishing is incessant and the corporate spin is well underway at the North American International Auto Show in Detroit.
With U.S. auto sales likely to slip in 2019, carmakers this week are fielding a mix of models that'll whet Americans' voracious appetite for trucks and sport utility vehicles over sedans that were once fixtures of American driveways. They're also feeling around for how future technologies are best put to use.
GM Targets 300-Mile Range in Challenge to Tesla (5:04 p.m.)
General Motors Co. really wants to take on Tesla in the electric-car market. When Cadillac's battery-powered SUV goes on sale in 2021, it'll be able to travel more than 300 miles on a charge, Steve Carlisle, president of GM's luxury division, said in an interview. That roughly matches the range of more expensive versions of Tesla's Model 3, which go 310 miles between charges.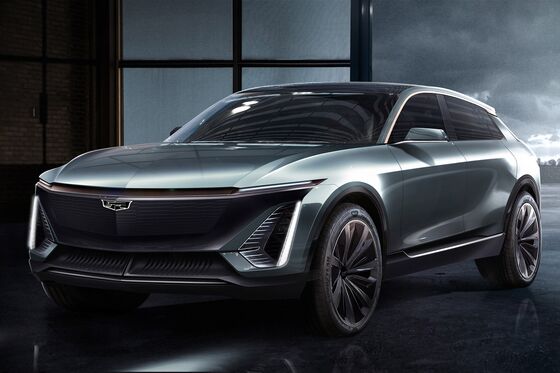 The future SUV may match Tesla today, but by 2021 the Model 3 may very well have better range. GM's battery engineers will have to work to keep pace.
Trade Isn't Only Barrier to U.S. for China's GAC (4:42 p.m.)
Guangzhou Automobile Group Co. is spending almost twice what it normally does on a vehicle's development to try to bring the GS8, a seven-passenger SUV sold in China, up to snuff for more-stringent U.S. emissions and crash standards.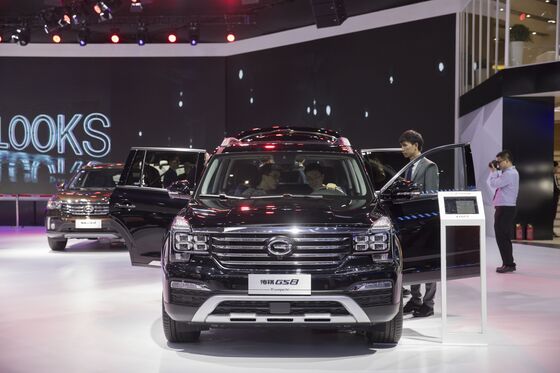 "The car looks almost identical to the car we are selling in China, but actually inside, underneath the skin, we have done a lot of improvement and modifications," Zhang Fan, a vice president and head of design for GAC Motor, said at the show. "We have invested a lot of money."
GAC, whose long-stated goal has been to be the first automaker to market Chinese-branded cars in the U.S., wants to start selling the model in America early next year, but the U.S.-China trade war has emerged as a major potential hurdle. If President Donald Trump slaps a 25 percent tax on imports, there's "no point" in pursuing the business, Zhang said.
VW Says No Deal Yet on Self-Driving Link to Ford (3:23 p.m.)
With only hours to go until Volkswagen AG and Ford Motor Co. are set to announce an expanded alliance, there's no guarantee the companies will work together on developing self-driving cars, Herbert Diess, VW's chairman and CEO, told reporters Monday in a roundtable at the show.
"There's still a lot of hype" about autonomous vehicles and "a lot of money flowing in, but I think it's still a long way to go until we really get the first paybacks," Diess said. "There's one alternative, which could be joining forces with Ford. It's not yet decided. But it's still a long way to go, many millions to be poured in and probably some setbacks to expect."
VW and Ford have scheduled a teleconference for Tuesday morning to reveal the results of their talks about working together on commercial vehicles and potentially other areas. But there's no deal yet on teaming up on driverless vehicles, Diess indicated, in part because VW is "committed to owning the software stack" that controls the self-driving car.
Ghosn's Downfall Won't End an Alliance (1:40 p.m.)
The future of Carlos Ghosn and the future of the Renault-Nissan-Mitsubishi alliance are two radically different discussions, Philippe Klein, Nissan Motor Co.'s chief planning officer, told reporters. He had no comment on Ghosn, other than to repeat the company position that the longtime leader's future is in the hands of Japanese courts.
"This is not changing the alliance," Klein said. "The alliance remains at the heart of everything we do. This is not because of any one person," but because the "scale is huge."
The companies need each other to share technology and spread costs and expertise, he said, pointing to Mitsubishi pickups that do well in Southeast Asia as an example. Designers continue to work arm-and-arm across all three automakers, added Alfonso Albaisa, Nissan's senior vice president of global design.
VW to Invest $800 Million in Tennessee EV Plant (12:40 p.m.)
Volkswagen AG's big news of the show is a plant it's planning to build about 600 miles south of Detroit.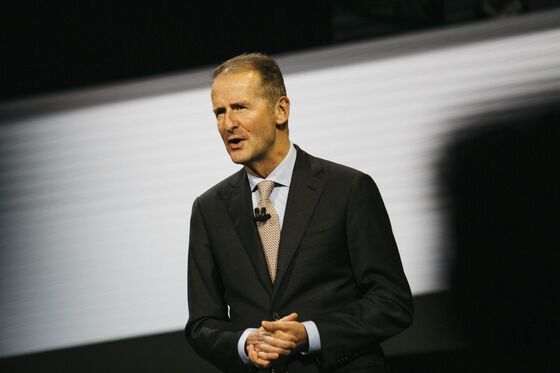 The German automaker announced it will invest $800 million to start producing electric cars in Chattanooga, Tennessee, the home of its only factory in the U.S. The investment will include separate facilities and add to the site's capacity, CEO Herbert Diess told reporters.
"We need all that we have there," Diess said of the production lines in the existing facility. Additional models are planned that will use VW's SUV platform and be assembled at the plant alongside the Atlas model. "We need additional capacity," he said.
What's Japanese for 'When It Rains, It Pours'? (12:36 p.m.)
The lights were flashing, the sound was booming, the video was running -- and the star was a no-show. The QX Inspiration electric sport utility vehicle was supposed to highlight the 30th anniversary of Infiniti's premiere at the Detroit auto show, but the concept vehicle decided to remain just a concept for now.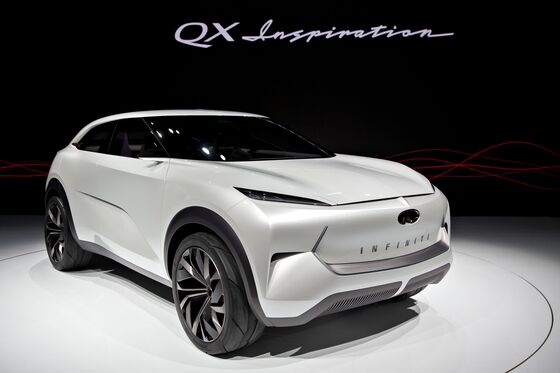 Karim Habib, the head designer for Nissan's luxury brand, gamely carried on with the presentation, alone on the vast white stage while workers behind a curtain tried in vain to get the QX Inspiration started. The event's announcer suggested it was an example of ma, the Japanese design concept of empty space. It was a fine, well-crafted dog-and-pony show -- just without the dog or pony.
Why the Wheels Came Off Ford's Chariot (9:49 a.m.)
Ford decided to kill Chariot, its shuttle-based ride-sharing service, in part because there wasn't a regulatory framework for it to continue, CEO Jim Hackett told reporters. The data gathered -- particularly related to how people used the service to plan daily trips and communication with the cloud -- will still feed into future autonomous-car designs, he said.
"The issue is that we were ahead of, really, policies that will make this a better business," said Hackett, who ran Ford's Smart Mobility unit before he was promoted to the automaker's top job in 2017. "I'm very happy with what Chariot taught us and what the next evolution of the business is going to be. This is a pivot for us -- a bunch of things have been birthed from the Chariot experience."
The service will cease operations by the end of March, according to a company blog post last week. The Ford Smart Mobility subsidiary, formed in March 2016 and led by Hackett at that time, bought Chariot six months later as its first acquisition.
Toyota Warns -- Again -- of Tariff Impact (8:50 a.m.)
Toyota Motor Corp.'s head of North America is no fan of tariffs. Jim Lentz, the automaker's chief executive officer for the region, warned on Bloomberg Television that the cost of models including the Kentucky-built Camry -- the best-selling sedan in America -- could give Americans sticker shock if the Trump administration follows through on the president's threat to tax vehicle and parts imports. Higher material costs already are dragging on sales, he said.
This is a familiar refrain from Toyota. The company said in June that the Camry faced the potential for an $1,800 cost increase if the Commerce Department implemented 25 percent tariffs. The automaker also has expressed concern for its RAV4, the top-selling crossover, which is made in Canada and Japan, and has said it may halt imports of some models into the U.S.
Light-Duty Ram Brings Home Hardware (8:23 a.m.)
After outselling General Motors Co.'s Chevrolet Silverado in the fourth quarter, Fiat Chrysler Automobiles NV's Ram now has more to brag about at the expense of its Detroit-based rival.
The Ram 1500 pickup was named North American Truck of the Year, beating Silverado and the GMC Sierra 1500. Fiat Chrysler has said it wants to overtake Silverado in sales by 2022.
Hyundai may be struggling in the U.S. sales ranks, but it's finding some redemption in Detroit. The Genesis G70 and Hyundai Kona/Kona EV were named the top car and utility vehicles by the jury of auto journalists from the U.S. and Canada who vote on the honors.
Ram Takes Wraps Off New, Big Trucks (12:01 a.m.)
Fiat Chrysler was riding big momentum into this year's show. It's given GM a stiff challenge for the No. 2 spot among the top truck lines in the U.S. And it's reinforcing the lineup with revamped heavy-duty versions of its pickups debuting here in Detroit.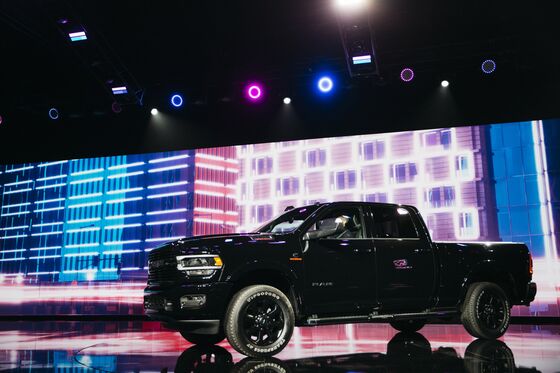 Heavy-duty trucks are a hugely lucrative sub-segment of the truck market, from which Fiat Chrysler, GM and Ford haul in more than $90 billion in annual revenue. It's also the part of the industry where capability is paramount, and Ram is boasting big numbers including towing capacity of 35,100 pounds. Ram will offer an air-suspension system with a mode that lowers the truck bed to ease the process of loading gear or hooking up a trailer.