Ford Falls Below $9 for the First Time in More Than Six Years
(Bloomberg) -- Ford Motor Co. shares are taking a pounding as the automaker adopts a piecemeal approach to outlining cost cuts that are part of a years-long and costly restructuring.
Ford fell 3.3 percent on Tuesday to close below $9 for the first time since August 2012. The stock is now down 28 percent this year. In the absence of major news, automotive shares fell with Fiat Chrysler Automobiles NV slipping 0.9 percent and General Motors Co. dropping 4.7 percent, the most since May 2017.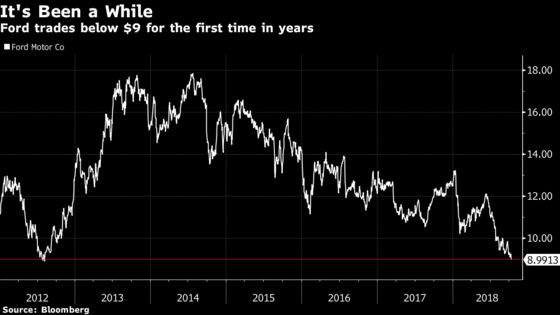 Ford announced Monday that it'll shake up its global marketing operations, in part by transferring advertising business away from longtime partner WPP Plc, but the automaker is expecting to save just $150 million annually. That pales in comparison to the $25.5 billion in savings that Ford has targeted by 2022.
While the automaker told its 70,000 salaried employees last week that they face job cuts, Ford didn't quantify how big it anticipates the reduction will be. The company also didn't address whether it planned involuntary separations or estimate the financial impact.
Chief Executive Officer Jim Hackett also told Bloomberg News last month that President Donald Trump's tariffs on imported metals will cost Ford about $1 billion in profit.