Israeli Ex-Commandos Market Armored Backpacks for U.S. Shootings
(Bloomberg) -- Two former Israeli commandos are looking to use their battleground experience to protect American schoolchildren from rampaging gunmen. Their answer: armored backpacks.
School safety has become a hot-button issue after a string of deadly shootings including the 2014 attack that killed 20 elementary school students and six staff in Newtown, Connecticut, and the assault in Parkland, Florida, a year ago that claimed 17 lives.
Gabi Siboni, a cyber security expert and colonel in Israel's army reserves, has joined with one of his former soldiers in the Golani infantry brigade to make backpacks with Kevlar panels that can stop bullets from a 9-millimeter handgun or a .44 Magnum. When unfurled, the panels in their ArmorMe bags resemble the padded aprons baseball umpires wear to protect themselves from wild pitches or foul balls.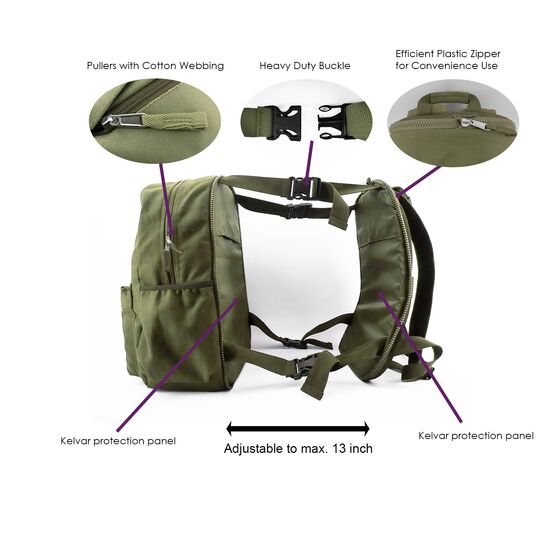 "We weren't looking to make a bulletproof vest. We wanted to make a good backpack that can also protect you," Siboni said. "It can make the difference between life and death."
A canvas bag with a single Kevlar panel sells for $175 through ArmorMe's website, and slightly more on Amazon. A pack with two panels -- which can both be worn in front, providing neck-to-knee coverage, or one in front and one in back -- retails for $230. Each panel adds 750 grams (1.65 pounds) to the bag's weight.
The price is in line with ArmorMe's competitors, such as Leatherback Gear. BulletBlocker and Backpack Armor sell $100 panels that can be inserted into different brands of backpacks.
Kids don't wear their backpacks all day at school, but they typically have them nearby. When there's a shooting, most students will have a bit of warning -- gunshots fired in another classroom, or shouts and screams in a hallway -- giving them time to grab their bags and unzip the protective panels, Siboni said.
While Siboni won't disclose sales numbers, he says the company's website received nearly 30,000 click-throughs within weeks of its debut. He's reaching out to U.S. Jewish organizations -- still reeling from the mass shooting at a Pittsburgh synagogue in October -- to see if they're interested in some kind of partnership.
"We're not the ones creating this reality in the United States, we're just reacting to it," Siboni said. While these bags won't stop all threats, he said, "there's no question they increase your survival chances dramatically."