For Goldman to BlackRock, Emerging Markets Are Smart Value Play
(Bloomberg) -- As trade tensions, a stronger dollar and interest-rate hikes take a toll on emerging markets, some of the world's biggest money managers are pivoting to a familiar phrase: It's all about value.
Investors and strategists including BlackRock Inc., T. Rowe Price Group Inc., Goldman Sachs Group Inc. and Pacific Investment Management Co. say the pummeling that the asset class took this year means now's the time to buy. Stocks have lingered on the edge of a bear market. Currencies from Argentina to Turkey and India all reached record lows. And bonds have dropped the most since the 2013 taper tantrum. The selloff's silver lining: Valuations so cheap that stocks in the developing world are close to their biggest discount to U.S. peers since 2002.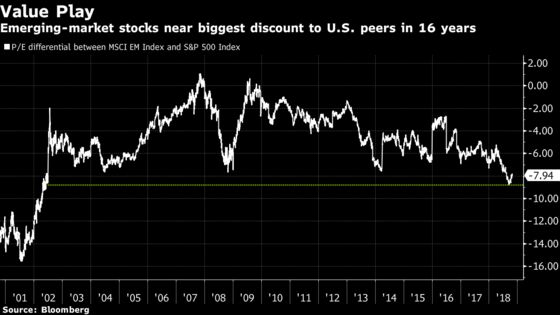 "EM equities are trading at close to the biggest discount to the U.S. on record, so there are a lot of investors ready to pounce," said Sonja Gibbs, a senior director at the Institute of International Finance in Washington. "Relative to mature markets, EM equities could well return more in dollar terms next year, given how far they've fallen and the extent of currency depreciation."
It wasn't long ago that growth was the buzzword. In January, Jeremy Grantham, GMO's often-bearish co-founder, recommended owning as much emerging-market equity as tolerable. While value was part of the equation, he predicted a growth differential between emerging and developed economies for years to come. In the months that followed, fund managers and analysts from BlackRock to Morgan Stanley and Societe Generale echoed him in saying developing nations would grow faster than their more industrialized peers.
Sentiment shifted more recently amid warnings from the International Monetary Fund, World Bank and other global finance chiefs that escalating trade friction and geopolitical risks will dent economic expansion in emerging markets. The IMF cut its outlook for world growth for the first time since 2016, while Pakistan followed Argentina in requesting a bailout.
Here's a roundup of recent commentary:
Isabelle Mateos y Lago, chief multi-asset strategist at BlackRock in New York
Emerging markets are a "value" story, but one must be selective
The dollar is a "little bit expensive" and appreciation momentum probably won't continue into year-end
Favors developing nations that are least vulnerable to potentially higher dollar, trade jitters and tighter financial conditions
Gene Frieda, global strategist at Pimco in London
Emerging-market debt looks more attractive as investors discount a more extreme and negative trade scenario
Trade war is a "phony war" as Trump may turn on a dime
China is a risk factor but hasn't been key driver of selloff
Caroline Simmons, deputy head of the U.K. investment office at UBS Global Wealth Management in London
Emerging-market dollar bonds present good value on "attractive" yields
Neutral on EM equities on attractive valuations but downside earnings risk
China is biggest concern
Rashmi Gupta, a money manager at JPMorgan Chase & Co. in New York
Top picks include Brazil, Russia and Mexico on depressed valuations
Weakness in India may create opportunity in typically expensive market