For Deutsche Bank, the Trickle of Bad News Just Doesn't Stop
(Bloomberg) -- First there were the raids at Deutsche Bank AG's headquarters, then came the global market selloff. And the flow of bad news for Chief Executive Officer Christian Sewing is far from over.
Germany's largest lender was sued in a case tied to an industry-wide tax evasion scheme, and a watchdog took the unusual step of setting deadlines for the bank to review its due diligence on clients, reports showed on Thursday. Earlier in the week, it emerged that the firm was among lenders stuck with more than $1.2 billion of riskier loans, after failing to sell them to investors late last year.
While the setbacks individually are small compared with the pain the bank has been going through over the past years, the constant trickle of yet more bad news is threatening to undermine confidence in Sewing's ability to turn its fortunes around. The lender had a difficult fourth quarter, particularly in debt capital markets and fixed income sales and trading, Mainfirst wrote in a report this week after discussions with the bank. UBS Group AG expects Deutsche Bank will report a loss in the fourth quarter.
"We also understand that loan loss provisions are likely to come out higher than in previous quarters," Mainfirst wrote.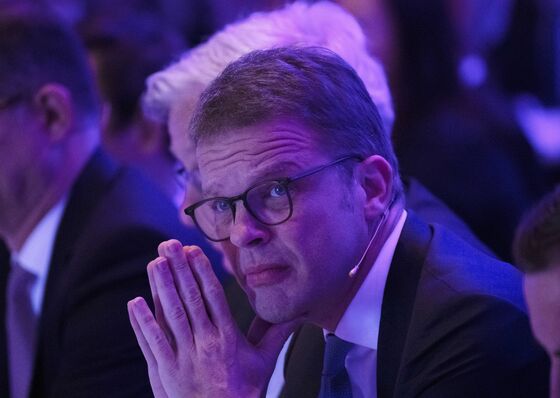 The stock fell for a second day, declining as much as 3.5 percent in Frankfurt on Thursday, before paring losses.
BaFin, the German financial watchdog, wants the lender to check by the end of June whether about 20,000 high-risk clients at its corporate and investment banking unit comply with anti-money laundering rules, people familiar with the matter told Bloomberg Thursday.
Deutsche Bank's controls have long been a source of criticism among regulators after previous management teams prioritized speedy revenue growth over rigorous efforts to know the bank's customers. Sewing has continued a recent push to improve compliance since taking over in April last year and appointed a new chief operating officer, Frank Kuhnke, the same month.
While banks regularly review and trim their client lists, it's unusual for a supervisor to set specific deadlines. In September, BaFin took the unprecedented step of appointing a monitor to oversee Deutsche Bank's efforts to improve money-laundering and terrorism-financing controls.
In a separate development, M.M. Warburg & Co., a private bank under investigation in Germany over a series of controversial tax deals, filed a suit in Frankfurt to force Deutsche Bank to pay a 46 million-euro ($53 million) tax bill it received over those transactions. The private bank says Deutsche Bank failed to transfer the taxes to revenue officials when it acted as custodian for the seller on a stock sale where Warburg was the purchaser.
Deutsche Bank spokesman Tim Oliver Ambrosius rejected the allegations.
"The allegations Warburg now distributed to media against Deutsche Bank as the custodian bank for the seller are known to us," he said. "We see no basis for them. So far, we haven't received the complaint."
The civil lawsuit expands the Cum-Ex worries for Deutsche Bank, which has always tried to stress it never participated as a seller or buyer in the trades. Prosecutors around the country are investigating the role of dozens of lenders and hundreds of bankers who handled the transactions, which took advantage of how Germany dealt with refunds on dividend payments.
In an interview published this week, Sewing tried to assure investors that the bank is on the "right path" to achieve its targets, and said that if the lender shows sustainable profitability and a steady development over the next years "this will be reflected in the share price."