For Deutsche Bank Bonus, Raid Is 'Nightmare With Eyes Wide Open'
(Bloomberg) -- It's that time of year again when Wall Street bankers turn their attention to bonuses. And at Deutsche Bank AG, they're facing the prospect, again, that part of their payouts could be swept away by scandal.
At the company's offices around the world on Thursday, employees watched the flashing lights of police cars through windows and on TV as 170 officers raided the bank's headquarters and other German locations, seeking evidence of money laundering. Such news has tended to fall particularly hard on staff at the Frankfurt-based lender.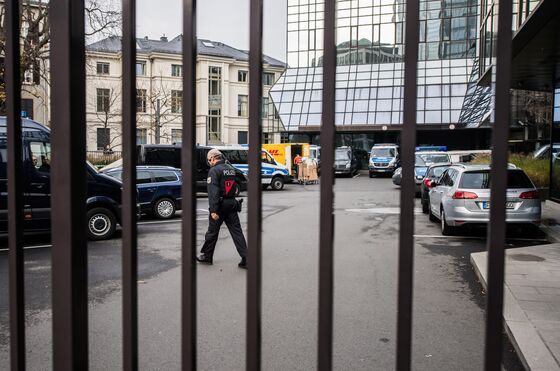 Deutsche Bank cut annual bonuses for 2016 by roughly 80 percent because of mounting costs from legal matters. To ensure its crucial talent didn't flee, the firm earmarked more than 1.1 billion euros ($1.3 billion) in retention awards to about 5,500 employees last year. But the payouts take as long as six years to vest, and half are in the form of equity that will be withheld if the stock misses an undisclosed target.
Deutsche Bank's shares hit a record low this month and fell anew after Thursday's raid. Key performers are now staring at a stock price that's less than half the level required for full payout, according to people with knowledge of the matter.
"They're in one of those situations where it's a nightmare with eyes wide open," said Jason Kennedy, chief executive officer of recruiting firm Kennedy Group. "They see their money just continuously go down."
The bank's leaders have previously said they will pay competitively for performance this year, while reining in other expenses. That remains their intent, according to a person with knowledge of the firm's planning, who asked not to be identified discussing private deliberations. Even if bonuses are shifted, European bankers tend to get higher base salaries than their overseas counterparts because of compensation rules aimed at reducing risk-taking.
Still, when one Deutsche Bank veteran in New York was asked about the police raid on Thursday, he pointed first to his bonus, saying he's worried that the year-end payout will wither again. Across the Atlantic, an executive in London commiserated with a former colleague about the raid and its implications for compensation.
Chief Executive Officer Christian Sewing, who took the helm in April, has been trying to move Germany's largest lender beyond an era of major scandals that erased years of profits, eroded the bank's capital, eliminated jobs and fueled defections. The bank began returning to past bonus levels earlier this year. Yet new legal issues keep emerging.
Earlier this month, Deutsche Bank drew headlines for its alleged ties to a dirty money scandal at Danske Bank A/S. This week's raid was triggered by accusations it didn't report evidence of money-laundering contained in a batch of documents leaked to the media in 2016, known as Panama Papers. Deutsche Bank said it's cooperating with authorities in that probe.
Already, the company's bankers are forgoing many of the perks long associated with life in the financial industry.
In its push to cut expenses, Deutsche Bank curbed first-class train tickets and eliminated a variety of small luxuries, such as fruit bowls. Then in August, Chief Financial Officer James von Moltke took another step, urging employees in a memo to avoid non-essential travel until the end of the year. "With your help, we will meet our cost-reduction targets," he wrote.