U.S. Housing Market Seen as 'Tough' for Both Buyers and Sellers
(Bloomberg) -- Next year is expected to be a tough environment for both buyers, particularly for entry-level buyers, and sellers, according to forecast just released by Realtor.com.
As mortgage rates creep up to hit 5.5 percent by the end of 2019, the average home purchase will be 8 percent more expensive per month than 2018, according to the report.
"We don't expect a buyer's market on the horizon within the next five years," said Danielle Hale, chief economist for realtor.com.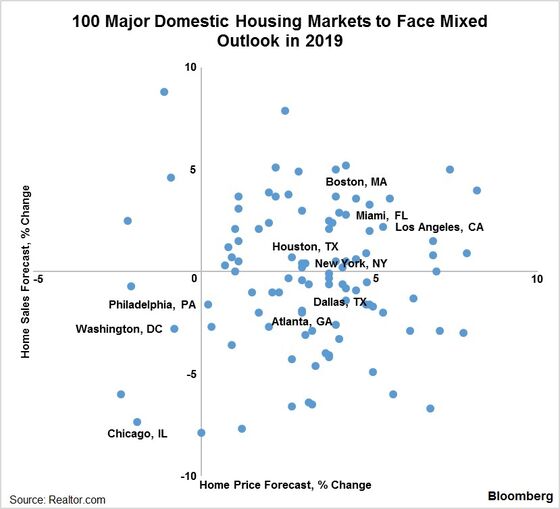 A separate housing survey released by Fannie Mae also concluded that only one in five Americans think it is a good time to buy a home.
Sellers will see increasing competition adding pressure on prices and may find it will take longer to sell in the coming year. After 44 months of declines, inventory picked up last month and is expected to continue to rise over the next year, according to Realtor.com. The increase however, will be in the mid-to higher-end tiers -- Realtor.com is predicting double digit gains in San Jose, Seattle, Boston and Nashville in 2019 -- not at the entry-level.
Mortgage rates will average 5.3% next year and reach 5.5% by year end 2019

A separate National Association of Realtors forecast expects the 30-year fixed rate mortgage also rise to reach 5.5% in 2020

David M. Blitzer, Managing Director and Chairman of the Index Committee at S&P Dow Jones Indices said, "One factor contributing to the weaker housing market is the recent increase in mortgage rates" in a separate emailed report

Home price growth will slow with forecast appreciation of 2.2%
Home sales will decline 2.0%
Single-Family home housing starts up 8%
Homeownership rate 64.6%, a slight rise from 64.4% reported last quarter
Among the 100 largest markets, only seven are forecast to see home prices decline. Urban Honolulu, a perennial pricey hub, will see zero change.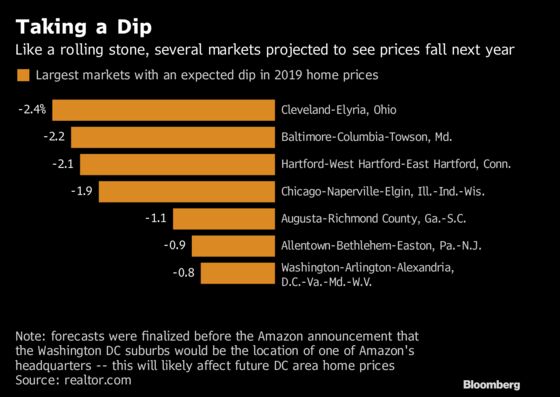 While no areas among the 50 largest metro areas are expected to see double digit gains, 20 metro areas are projected to see home prices rise by 5 percent. With the exception of Jackson, Mississippi, and Nashville, Tennessee these areas are all west of the Mississippi or in Florida.