For Ackermann, America First Means Europe Needs Bank Mergers
(Bloomberg) -- When he ran Deutsche Bank AG, Josef Ackermann resisted merging with Commerzbank AG. Ten years after the Lehman Brothers crisis, he says a merger involving Europe's major banks could be the financial champion Europe needs in an era of Donald Trump's "America First."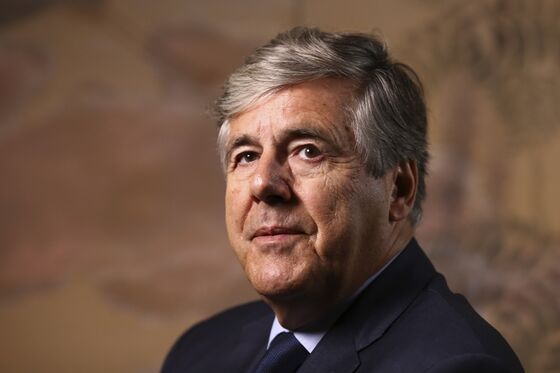 In investment banking, "the U.S. is absolutely taking over. Is that good? In a climate of America First, shouldn't Europeans try to change that?" said Ackermann, who ran Deutsche Bank for the 10 years to 2012, in an interview with Bloomberg Television.
A decade after Lehman and the TARP recapitalization that's widely viewed to have put U.S. banks on a sound footing, European banks are in a position of inferiority and have no choice but to pursue cross-border mergers, he said. Regulation will need to be more supportive to encourage pan-European deals, and political obstacles may be easing to consolidation in the overbanked German market, Ackermann said.
Deutsche Bank looked "many, many times" at a potential merger with Commerzbank, but "we always came to a negative solution," he said, given the political difficulties that would have ensued from slashing jobs in Germany at a time when unemployment was higher. "Maybe things have changed. I am sure the willingness of people to accept restructuring in the German market is higher than when I was there."
Ackermann, a 70-year-old Swiss national, oversaw Deutsche Bank's investment-banking arm before becoming the first non-German to lead the nation's largest lender in 2002. As he integrated the Bankers Trust business acquired in the U.S., Deutsche Bank became a global powerhouse in investment banking, especially in derivatives. It was Europe's biggest bank by assets.
But in the six years since his departure, Deutsche Bank has become a shadow of its boom-time self: stiffer post-crisis capital rules hampered the profitability of its former strengths in trading and years of rock-bottom interest rates hurt revenue from lending. Then there's the $18 billion in fines for past misconduct, much of which happened on Ackermann's watch. The stock tumbled to a record low in June in the wake of John Cryan's ouster as CEO, and his successor has unveiled the bank's fourth turnaround plan in as many years. Deutsche Bank's market value has sunk below 20 billion euros ($23 billion), a fraction of that of JPMorgan Chase & Co. or Citigroup Inc.
In the second quarter, U.S. banks increased their total trading revenue by 9.5 percent, with deal-making fees up 7 percent, while Deutsche Bank had had its weakest second quarter in fixed-income trading since the global crisis.
In Europe, "people are less pragmatic," Ackermann said. "We are still talking about legacy assets. In the U.S. everybody is looking to the future."
To turn the situation around, Ackermann is joining the chorus of voices urging financial executives to look for cross-border consolidation to redraw the financial map of Europe. Last month, German Finance Minister Olaf Scholz bemoaned that the financial crisis caused German banks to fall behind global rivals, stirring speculation that combinations among the nation's multitude of lenders are gaining favor in Chancellor Angela Merkel's government.
"We have to do everything to somehow create a single market and a European market with the same regulatory environment, so we can have more cross- border consolidation moves in the future," Ackermann said.
Outside Germany, media reports this year have flagged discussions between UniCredit SpA, the largest Italian lender, and France's Societe Generale SA, given that UniCredit's top executive has held senior roles at both institutions. In the U.K., reports have speculated about a tie-up between Barclays Plc and Standard Chartered Plc.
Read More: In 2003, Ackermann grapples with job cuts, predicts bank mergers
Ackermann recalled the peak of the Lehman crisis, when he was meeting the German finance minister and discussed, ironically enough, how Germany needed bank consolidation. Then, "the worst-case scenario" materialized, he said. "I was travelling from Zurich to Frankfurt when I got a telephone call from our U.S. head, telling me 'it's over,'" he said of Lehman Brothers.
As bank stocks plunged to previously inconceivable lows, "you realize how interconnected we were in the financial system."