For a Peek at Bob Iger's Online Strategy, Look to Disney's Past
(Bloomberg) -- The upcoming launch of Disney+ isn't the first attempt by the world's largest entertainment company to woo consumers with a subscription-video product. If past is precedent, parents will flock to the new streaming service in droves when it debuts later this year -- but Netflix may not need to hand over its title belt just yet.
Walt Disney Co.'s first major foray into the world of commercial-free TV came in 1983, when it introduced the Disney Channel, a premium cable network similar to HBO. With $100 million in initial backing, the channel offered cartoons and a smattering of original shows.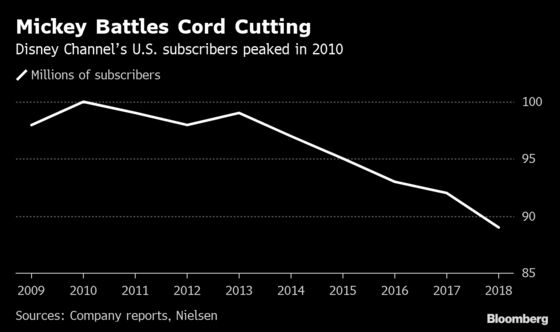 Disney marketed the channel, in part, as an alternative to the Gomorrah of sex and violence on other cable networks -- an approach that would resonate with parents today who worry about what their kids see online. By the spring of 1985, according to the Associated Press, the channel had attracted 1.8 million subscribers who were paying $7 to $15 a month, and had reached break-even faster than the company expected.
Investors will be looking for similar assurances Thursday, when Chief Executive Officer Bob Iger and his team detail their plans for Disney+ and provide an update on their other big online initiative -- ESPN+. The entertainment giant is pouring some $2 billion a year into streaming in the form of new programming, marketing muscle and the income it's losing by no longer selling movies and shows to rivals like Netflix Inc.
One of the main challenges in getting the Disney Channel to market almost 40 years ago was that prior to its launch, the Burbank, California-based company made good money licensing movies to outlets such as Showtime. It was a relatively new vein of high-margin, low-risk income but many inside the company were reluctant to upset existing partners, according to Jim Jimirro, the network's first president.
Lately, Disney executives have grappled with a similar dynamic in the world of streaming. Deep-pocketed, on-demand services like Netflix have provided the company with yet another profitable outlet for its programs. But once again, Disney has watched as its beloved characters helped fuel the rise of a new category of home-entertainment competitors.
What Bloomberg Intelligence says

"Disney's aggressive direct-to-consumer goals will curb near-term earnings as content costs and lost licensing sales may reach almost $1 billion, but best-in-class brands such as Marvel and Star Wars offer a sizable opportunity."
--Geetha Ranganathan, media analyst
Click here to read the research.
In 2017, Disney revealed it would end its lucrative distribution deal with Netflix and take control of its own streaming destiny. How much will the shift hurt Netflix, which is currently approaching 150 million global subscribers? When the Disney Channel launched in 1983, analysts similarly questioned how much the move would impact HBO. In the end, Disney never came close to catching up with HBO, which remains the leader in premium cable.
Jimirro says that topping HBO was never the primary goal. The aim of the channel was to feed and nourish consumer demand for all things Disney. When the network launched, it featured a daily show called "Epcot Magazine," essentially a recurring pitch to visit Disney's futuristic theme park in Florida. Jimirro said the channel was happy to promote Epcot and, in exchange, get its own promotional storefront window on Main Street at Disneyland.
"That kind of synergy is at the core of everything that Disney does," Jimirro said.
The Disney Channel also lagged behind Nickelodeon, particularly after Viacom Inc.'s ad-supported network for kids began diving deeper into original animation in 1991, producing cheeky content such as "The Ren & Stimpy Show" and "Rugrats." Disney's programming looked hidebound by comparison.
Herb Scannell, who served as president of Nickelodeon for 10 years starting in 1996, said the channel relied on classic Disney cartoons and characters, like Donald Duck. "It was their legacy, and a ball and chain around their ankle."
In the early 1990s, the Disney Channel began shifting to a basic-cable model, similar to Nickelodeon. Rather than trying to convince consumers to sign up for the channel, Disney negotiated a fee from cable operators. Under Anne Sweeney and Rich Ross, two former Nickelodeon executives, the company began segmenting the shows for preschool, tweens and older kids.
Disney executives initially had to battle the perception that the channel was only for little ones. Consultants even suggested the company drop the Disney name. "Five- or 6-year-olds said it was for their younger siblings," Ross recalled.
But eventually the programming shift paid off, delivering a string of hit shows such as "Hannah Montana," "High School Musical" and "Lizzie McGuire." By 2010, the Disney Channel hit 100 million domestic subscribers. Last year, with customers gradually cutting the cable cord, that figure fell to 89 million.
The arrival of Disney+ also will not mark the company's first foray into subscription, video-on-demand streaming services. In late 2015, with Netflix just beginning to set the world on fire, Disney's U.K. arm launched DisneyLife, which featured online access to thousands of TV shows, albums and movies. That included the complete Pixar catalog and classics such as "The Lion King," but no Marvel or Star Wars.
"This is the future in many respects," CEO Iger said at the time.
Within a year, the company cut the price in half, to 5 pounds ($6.50) a month, and added live streams of the Disney Channel and related networks. Disney hasn't disclosed how many customers the service has.
"They went to school on DisneyLife, as they were thinking about what to do with Disney+," said Drew Borst, an analyst with Goldman Sachs Group Inc. who has a buy rating on Disney.
When Disney+ launches later this year, the company has indicated it will offer a large slate of original programming from the outset, as well as some of its most popular recent movies. Unlike a generation ago, when VCR-driven piracy led Disney to hold back its classic animated features, Disney+ will have crown jewels such as "Snow White and the Seven Dwarfs" and "Pinocchio."
Among the new projects underway are two live-action "Star Wars" series, including "The Mandalorian," written and produced by director Jon Favreau, as well as an animated "Monsters, Inc." series from Pixar, and a reboot of a franchise borrowed from the Disney Channel, "High School Musical." On Tuesday, Netflix signed Kenny Ortega, the director of "High School Musical," to a long-term deal.
One looming question for Disney is how the new service impacts the Disney Channel. That network alone generates $1.1 billion in earnings a year, according to S&P's Kagan division. And a good chunk of Disney's budget for programming will go to Disney+, according to Goldman Sachs analyst Borst.
"That's the core of the question," Borst said. "Disney+ does cater to a similar audience."