Foot Locker Surges After Slimmed Down Inventory Lifts Profit
(Bloomberg) -- Foot Locker Inc.'s inventory is shrinking and that's a good thing.
The athletic-shoe retailer posted profit and sales that topped analysts' estimates last quarter, citing improvement in the flow of premium goods from top vendors. The shares jumped the most in more than six months on Friday.
While comparable-store sales declined in the period that ended May 5, the drop wasn't as big as Wall Street anticipated, and the company said it expects its gross margin, a measure of profitability, to improve in the current quarter.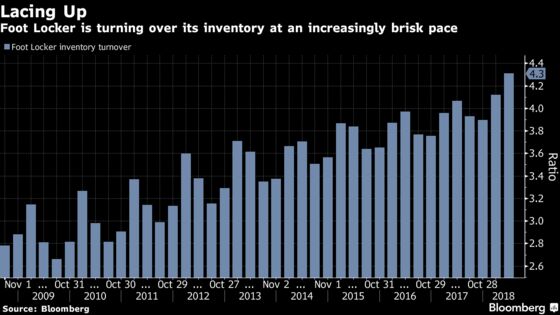 Foot Locker has been battered by lackluster inventory as consumer tastes change, particularly among younger shoppers, forcing the retailer to rely on markdowns. Even with Friday's share gains, the stock is still down more than 30 percent from late 2016 highs.
"The team did an excellent job in managing our inventories and helping to clear slow moving product in a promotional environment," Chief Financial Officer Lauren Peters said in a statement. The approach "positions our inventory to drive improved top and bottom line results over the balance of the year."
Merchandise inventories shrank 5.4 percent in the quarter compared with a year earlier, and excluding currency fluctuations, the drop was 7.1 percent.
Shares of Foot Locker advanced as much as 15 percent to $53.36 in New York, the biggest intraday gain since mid-November. They had dropped about 1 percent this year through Thursday's close.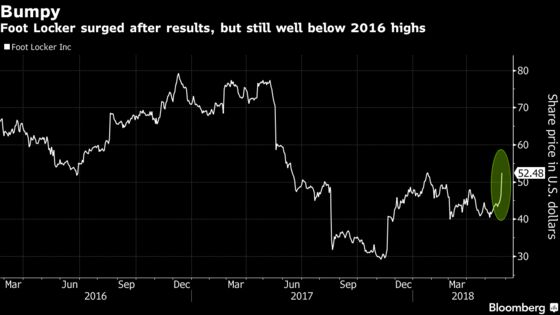 Excluding some items, profit in the quarter amounted to $1.45 a share, the company said. That exceeded the $1.25 average of analysts' estimates. And while gross margin, a measure of profitability, declined, the company said expenses rose mostly because of investments in its digital operations.
On a conference with analysts, Peters said gross margins should improve by 20 to 50 basis points in the current quarter.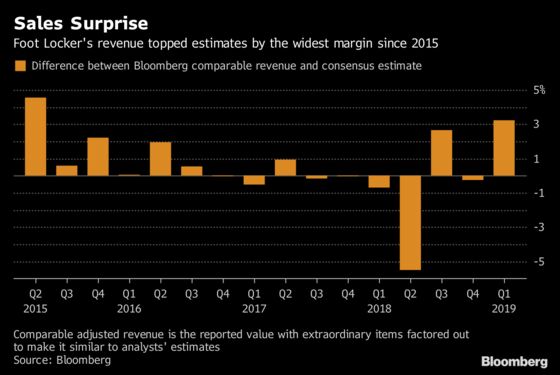 Revenue of $2.03 billion also topped projections. Same-store sales, a key metric, fell 2.8 percent, compared with the 3.6 percent drop seen by analysts, according to Consensus Metrix.