Foot Locker's Winning Strategies, Strong Demand Get Rewarded
(Bloomberg) -- Foot Locker Inc. surged as much as 17 percent on Wednesday after its third-quarter results impressed investors, allaying concerns over gross margin and tariffs that have weighed on retail stocks over the past month. It was the stock's biggest gain since May.
The beat-and-raise report shows that the company's digital and in-store investments and its collaborations and partnerships are paying off, analysts said. Inventories appear clean, which should continue to aid gross margin. Analysts also cited a turn to positive comparable-store sales in Foot Locker's European operations, while noting that continued declines in the basketball category was the one weak spot they will continue to watch.
Nike Inc., Foot Locker's top supplier, rose as much as 2.5 percent. Shares of Adidas AG climbed as much as 1.9 percent in Germany.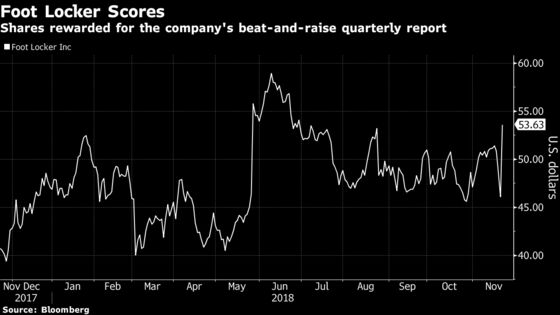 Here's what Wall Street analysts are saying:
Telsey Advisory, Cristina Fernandez
Foot Locker's results show that the company "remains relevant as a distribution partner for athletic brands and stands to benefit from increased sales momentum at its largest partner, Nike."
"The company's collaborations and exclusive products and experiences are allowing it to capitalize on strong demand for athletic apparel and footwear." The one soft spot remained basketball and the Jordan brand, which Fernandez expects "to gradually improve" as Nike has made good progress in reducing inventory.
"Foot Locker is also leveraging strength in secondary brands such as Champion, FILA, Vans, and Reebok," while clean inventories across the U.S. channel contributed to improved gross margin and more full-price selling, which should continue into next year.
Rates outperform and raises price target to $60 from $58
"The beat and raise is evidence that FL's operational discipline and strategic investments, particularly in digital, are beginning to bear fruit."
"Inventory levels are clean and momentum across all geographies is improving or continuing."
"We believe the 3Q results represent the beginning of a positive transformation that will further take shape in 4Q" and into next year. "We believe the digital investments FL is making are a critical component to connecting with customers, breeding loyalty to the brand, and ultimately driving comp. sales."
Poser reiterated his positive rating and price target of $64.
Jefferies, Janine Stichter
"FL's initiatives are taking hold, with 3Q showing upside to both sales and margins and the key footwear category comping positive for the first time in over a year." Better promotion
control, both industrywide and at Foot Locker, "should help support margin expansion."
"Basketball is a lingering, yet improving, headwind." Basketball comparable sales fell mid-single digits, an improvement over the high-single digit decline last quarter. The category should show improving momentum in the fourth quarter as the changes to Jordan distribution are lapped.
Jefferies expects Nike's push toward "differentiated retail" to continue to benefit Foot Locker, and Foot Locker management's commentary around the strength of their relationship with Nike should help to quell some fears around its push toward a consumer direct strategy.
"FL remains our favorite way to play Nike's resurgence in North America, while we view concerns over Nike's shift to a direct strategy as overblown."
Stichter rates Foot Locker a buy and raises her price target to $62 from $60.
Piper Jaffray, Erinn Murphy
"We commend the company's execution and lift our estimates to better reflect current consumer strength and the improved growth balance between Nike (67% of FL sales) and Adidas (No. 2 brand)."
Management's tone around the fourth quarter "was optimistic" -- guiding to comparable sales growth of low- to mid-single digits -- but they noted that the leverage point remains at mid-single digit growth given ongoing technology investments.
Murphy maintains a neutral rating, saying she remains "concerned on long-term fundamentals given many consumers are quickly shifting their purchases to digital - a channel where FL has seen years of growth deceleration while brand digital performance has been accelerating."
She boosted her price target to $51 from $42.
Third-quarter apparel comparable sales increased in the high-single digit range, with footwear positive for the first time in six quarters; these gains helped to offset continued accessories comparable sales contraction.
Foot Locker Europe turned positive -- the region's first positive comparable sales trend in eight quarters. This is a good sign for both Nike and Adidas. "Inventory management improved in the channel and is still an ongoing process to improve markdowns."
Kernan maintains his market perform rating and price target at $56, stating that "the overwhelming reliance on premium Nike sneakers, especially premium basketball, concerns us as our channel checks and observations point to a slowdown in basketball footwear sales." This overhang, coupled with Nike, Under Armour and Adidas's plans to "dramatically" boost their own direct-to-consumer businesses, "will prevent FL's shares from seeing a meaningful multiple expansion."